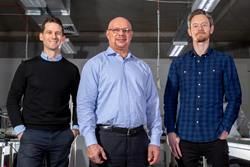 When we started Inventia Life Science, our vision was to create a technology platform with the potential to bring enormous benefit to human health. We are pleased to see how fast that vision is progressing alongside our fantastic collaborators - Dr Julio Ribeiro, CEO of Inventia Skin
SYDNEY (PRWEB) July 23, 2020
A team including fast-growing Sydney start-up Inventia Life Science, world renowned skin surgeon and former Australian of the Year, Professor Fiona Wood, and leading bioprinting researcher, Professor Gordon Wallace, have received two major investments from the Australian Government to accelerate the development of a robotic device that prints a patient's own skin cells directly onto a burn or wound.
The device, codenamed Ligō from the Latin 'to bind', could revolutionise the way we approach wound repair, and place Australia at the forefront of the burgeoning regenerative medicine industry.
Federal Health Minister Hon. Greg Hunt announced that the Government's BioMedTech Horizons program, operated by MTPConnect, will inject funding to take the device into first-in-human clinical trials within two years. Separately, the team also received funding from the Medical Research Future Fund Stem Cell Therapies Mission to collaborate with stem cell expert Professor Pritinder Kaur from Curtin University, to use the Ligō device to deliver stem cell based products that could improve skin regeneration.
The skin, our body's largest organ, is the first point of injury in accidents and some diseases. Damage it significantly and it will slowly heal and most likely leave a scar. However, throughout this process it will be open to infection while it tries to regenerate - a major problem in the body's first protective barrier.
Inventia Skin's Ligō robot prints tiny droplets containing the patient's skin cells and biomaterials to speed up the regenerative process and create a new layer of skin where it has been damaged. The device uses patented technology developed in Australia by parent company Inventia Life Science and featured in its RASTRUM™ platform for lab-based medical research and drug discovery. In taking this core technology into the clinic in the Ligō robot, Inventia Skin is breaking new ground with some of Australia's leaders in skin regeneration.
"When we started Inventia Life Science, our vision was to create a technology platform with the potential to bring enormous benefit to human health. We are pleased to see how fast that vision is progressing alongside our fantastic collaborators. This Federal Government support will definitely help us accelerate even faster," says Dr. Julio Ribeiro, CEO and co-founder of Inventia.
The technology within Ligō enables the rapid and precise delivery of multiple cell types and advanced biomaterials to a wound, providing the potential to recreate functional and aesthetically normal skin. This can be achieved in a single procedure, reducing treatment cost and hospital stays, and minimising the risk of infection.
For one of its partners - Professor Fiona Wood, Director of Western Australia's Burns Service - it's not the first time that she has looked towards bioengineering to help her patients. Professor Wood pioneered the now clinically approved 'spray-on skin' technique to treat skin burns based on research beginning in 1993, and came to notice in 2002 at the time of the Bali Bombings. Combined with the expertise of Professor Gordon Wallace at the University of Wollongong, one of Australia's most eminent researchers in bioprinting and biomaterials, Inventia Skin has a very bright future ahead.
"The combination of these grants is an excellent example of the way the Medical Research Future Fund is being applied across the continuum of translational research to commercialisation, leading to better patient outcomes," says Professor Fiona Wood.
Learn more:
Further information on the BioMedTech Horizons Program is available here: https://www.health.gov.au/ministers/the-hon-greg-hunt-mp/media/188-million-to-supercharge-digital-health-technologies
Contact Inventia Skin at info@inventiaskin.com
Twitter or LinkedIn @InventiaSkin
Australia: 1800 849 128
USA: +1 833 462 5959
Ireland: +353 818 370 035