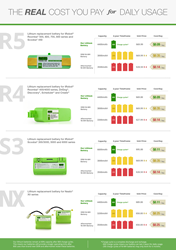 Lithium Power, Inc.'s worry-free, lifelong battery, is the solution for your robotic vacuum needs.
San Jose, CA (PRWEB) March 06, 2015
Lithium Power, Inc. offers an innovative breakthrough in lithium technology with their fully compatible replacement batteries for iRobot Roomba®, Scooba® and Neato® XV robotic vacuums. They last four times longer than the original equipment manufacturer (OEM) and all aftermarket nickel metal batteries.
"Our lithium replacement batteries will help make your floors cleaner," according to Wilson Chan, CEO of Lithium Power, Inc. "Just follow the steps in our quick start card and your robotic vacuum cleaner will operate multiple times longer. It will collect more dirt, dust, and grime. As for the robotic floor scrubber – Scooba, with our lithium battery, it will easily last through three mopping and water change cycles. I like to call this the oomph factor."
Last longer, clean better. Many users report back to us or write reviews stating that their robotic vacuum's trash bin collects way more dust and dirt by using our battery. The operating time of their vacuum is even longer than when the robot was brand new!
Moreover, the longer battery life means users may not need to buy another replacement battery for the rest of the robotic vacuum's lifetime. For pet owners and daily users, the advantages of having a long-lasting lithium battery in a robotic vacuum cleaner or floor scrubber cannot be understated. See our cost-per-performance ratio, which proves the value of our lithium battery versus the traditional NiMH, and demonstrates how today's breakthrough technology improves quality of life.
Why transition to lithium batteries?
In summary, using Lithium Power, Inc.'s innovative breakthrough technology products for your robot cleaner can bring you cleaner floors and a better life quality:

Serves product's lifetime. The last replacement battery you may need to buy.
The lowest cost per usage, longest operating time and longest battery life.
Operates multiple times longer to collect more dirt, dust and grime.
Fully compatible with the original charger in all Roomba® series, Neato® XV series and the Scooba® 300/400 series. It is worry-free, plug and play solution.
"Last longer, clean better," says CEO Wilson Chan.
About Lithium Power, Inc.
Lithium Power, Inc. specializes in lithium technology and offers custom-made battery packs as turnkey solutions for OEM/ODM customers. The company also provides off-shelf lithium replacement batteries for the iRobot Roomba®, Scooba® 300/450 series, Neato® XV series, as well as scalable lithium battery modules for solar-powered products and medical-grade lithium battery packs for nursing-cart applications. Lithium Power, Inc. always offers innovative breakthrough technology and ideas for its application markets. Please stay in touch and follow the company for its growing product line. For more information, call (408) 837-0206 or visit us at http://www.LithiumPowerinc.com/