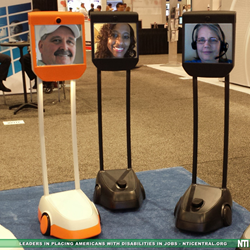 "I couldn't imagine a more perfect fit. Most of the employees who work for NTI wish that they could be a part of our events, but don't have the luxury of even leaving their own home. This technology closes the gap." ~Michael Sanders, Director of Marketing
Boston, MA (PRWEB) December 02, 2016
Robots will storm the Prudential Center in Boston, MA during the 31 Nights of Light Event on December 3rd, 2016. The event, which is held on the United Nations International Day of Persons with Disabilities, will highlight the achievements of NTI's work with helping Americans with Disabilities back into the workplace. Suitable Technologies is partnering with NTI to showcase how technology can help individuals with severe disabilities be present even though they are hundreds of miles away. Crista Cliver, Director of Education and Museum Business Development at Suitable Technologies, stated, "Suitable Technologies is proud to support this celebration for NTI and the work they continue to pursue to bring disabled working into the workplace. The Beam mobile telepresence system is a tool that NTI's members will utilize to have a presence in the workplace."
The Beam is a remote telepresence device that allows colleagues to meet and collaborate through the use of a tablet or computer. Since most of NTI's 800 employees have a physical disability that prevents them from working within the office, Michael Sanders, Marketing Director of NTI, thought that the Beam might be able to provide employees the chance to enjoy an upcoming event and participate in a unique way. After contacting Cliver of Suitable Technologies, Michael soon found that he could have employees with disabilities attend the event. Michael stated, "I couldn't imagine a more perfect fit. Most of the employees who work for NTI wish that they could be a part of our events, but don't have the luxury of even leaving their own home. This technology closes the gap."
Suitable Technologies is no stranger to helping individuals with disabilities interact outside of their homes. Last year, during the ADA's 25th Anniversary reception at the White House, President Barack Obama invited Alice Wong, Disability Visibility Project Founder, to come and speak with him via BeamPro. This marked the first telepresence robot to meet a President in the White House.
A year and a half later, 8 NTI employees are selected to participate in the training and attending the 31 Nights event. Christa is working with the participants to train them with a telepresence experience in Seattle, WA. However, some of the employees are experiencing their training from as far away as Florida. Cliver stated, "I realized what type of change the Beam can have in someone's life the first time I watched a disabled Beam user pilot the device. They finally had total control over their path for this first time in years."
Manny Napoles, who will be piloting one of the Beams stated, "I'm looking forward to doing something I never thought was possible! I can't wait to interact with an event supporting what we stand for; Americans with Disabilities." Cliver stated, "When initially using the device, it can be daunting because it is a new technology. However, the interface Suitable Technologies designed is user friendly in order to reduce the "technology" and enhance the "humanity".
The event is free and open to the public as well as the media. The ceremony and technology demonstrations will be held in the Atrium of the Prudential Building on December 3rd, between 4:30-7:30 pm.
Further details are on the 31 Nights of Light website at http://31Nights.NTICentral.org.
Event and media questions can be directed to Michael Sanders at msanders(at)nticentral(dot)org or 617-787-4426 x331
About National Telecommuting Institute
National Telecommuting Institute, NTI was founded in 1995 as a 501(c)(3) nonprofit organization, NTI pursued a mission to identify and develop work-at-home jobs for home-based Americans with a disability. Since that time, NTI has successfully provided trained work-at-home employees to some of the largest U.S. government agencies, Fortune 500 companies and to smaller businesses to outsource and expand their customer service and technical support operations. Visit http://www.nticentral.org/learnmore for more information about how NTI assists Americans with Disabilities.
About Suitable Technologies
Suitable Technologies creates technology that provides a more enriching way to connect with people. Whether the goal is to reduce the high cost of business travel, or to stay in better touch with friends and family, Suitable Technologies builds products to let you be where you need to be regardless of where you are. Suitable Technologies designs and manufactures at the company's headquarters in Palo Alto, CA. Other communication tools trap you in a box. Suitable empowers you to explore and interact. Be there. Beam there.
Contact:
Michael Sanders
National Telecommuting Institute
69 Canal Street Suite #3
Boston, MA 02114
Phone: +1-617-787-4426 Ext 331
Email: msanders(at)nticentral(dot)org
Facebook: facebook.com/nticentral
Instagram: instagram.com/nticentral