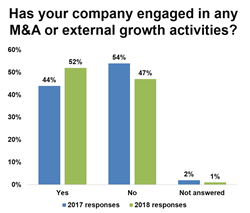 "M&A remains a proactive tool for middle market companies looking to augment their competitive advantage and accelerate growth."
MCLEAN, Va. (PRWEB) March 26, 2019
Leaders from various industries generally reported a positive picture of growth and mergers and acquisitions (M&A) activity according to a new survey by Capstone Strategic, a leading strategic M&A advisory firm for the middle market. The survey was conducted in December 2018 and January 2019 and is the sixth annual survey of the market.
The environment for growth was positive in 2018 with more (13% vs. 7%) reporting high growth and about the same observing modest growth (74% vs. 73%) in their industries. When asked about the overall business environment, most reported the same (50%) or an improving (42%) environment and few (7%) said the environment for growth had declined.
M&A activity was robust in 2018. 52% of survey respondents executed some form of external growth or M&A in 2018, up from 44% in 2017. Leaders observed about the same level of M&A activity and external growth in 2018 and 2017. 38% observed more activity in both years while 48% saw the same level of activity in 2018 (compared to 46% in 2017).
When it came to type of deal structure, while outright acquisition remained the most popular form (49%), a growing number pursued strategic alliances and joint ventures in 2018 (30% compared to 12% the previous year).
Looking forward to 2019, executives are less certain about dealmaking and a number voiced concerns about a possible recession. Compared to last year's survey, just 11% compared to 27% are 100% certain they will execute a deal in the coming year. Despite this drop, there is still interest in M&A. About the same percentage (26% compared to 24%) are more than 50% likely to pursue some form of M&A, while more (25% compared to 20%) are about 50-50 likely to do a deal.
"As anticipated in last year's survey, M&A activity in 2018 remained strong," said David Braun, CEO of Capstone Strategic. "While M&A in 2019 may not reach the record-levels of 2018 as executives wait to see how the market progresses this year, the survey and our own observations indicate there is still interest in pursuing deals that are strategic in nature. M&A remains a proactive tool for middle market companies looking to augment their competitive advantage and accelerate growth."
The full survey, State of Middle Market M&A 2019, can be viewed by clicking here.
About Capstone Strategic, Inc.
Capstone Strategic is a leading M&A advisory firm for the middle market specializing in not-for-sale acquisitions and corporate growth strategies. Founded in 1995 by CEO David Braun, Capstone has facilitated over $1 billion of successful transactions in a wide variety of manufacturing and service industries. Capstone utilizes a proprietary process to provide tailored services to clients in a broad range of domestic and international markets. For more information about Capstone and its growth strategy and advisory capabilities, please visit CapstoneStrategic.com For timely commentary and insights into the M&A market, please visit the Successful Acquisitions blog at SuccessfulAcquisitions.net. Capstone can also be reached at 703.854.1910 or Growth(at)CapstoneStrategic.com.
###