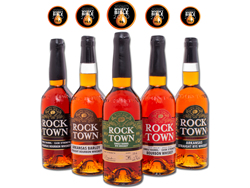 One of the non-Kentucky bourbons of the year. And the best thing I have yet encountered from this outstanding distillery.
LITTLE ROCK, Ark. (PRWEB) November 05, 2019
Rock Town Distillery is pleased to announce five of its whiskeys have scored the rating of "Liquid Gold" in the 2020 edition of Jim Murray's Whiskey Bible. Every year, Murray releases his annual Whiskey Bible, which names the best whiskeys across every category from Irish and Japanese to single malt Scotch and American.
Rock Town's scores show an amazing array of Bourbons and Rye, all delicious in their own right. Retail prices range from $40 to $60 each.
Rock Town Single Barrel Rye Whiskey - 96/100
Rock Town Single Barrel Four Grain Sour Mash Bourbon Whiskey - 95.5/100
Rock Town Barley Bourbon Whiskey - 95.5/100
Rock Town Single Barrel Bourbon Whiskey - 95.5/100
Rock Town Arkansas Rye Whiskey - 94.5/100
"It's just wow... no whiskey has a right to have a finish of this length," said Murray, about Rock Town's Single Barrel Rye Whiskey which scored a 96/100. Mr. Murray went on to say the whiskey "just put them into the Premier class..."
"To receive these ratings on five different whiskeys is a tremendous achievement" said distillery founder and head distiller Phil Brandon. "I'm so proud of our team and what our distillery has been able to achieve over the past 9-years."