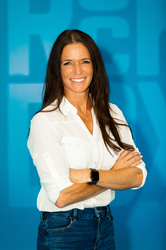 "Having the opportunity to develop other leaders within our ever-growing organization brings me a great amount of excitement and confidence for the future of RockBox Fitness," said Fisk.
HUNTERSVILLE, N.C. (PRWEB) May 03, 2021
RockBox Fitness, one of the nation's fastest-growing boutique fitness franchises, enters a new era of leadership with the announcement of April Fisk's promotion to Chief Executive Officer. Fisk officially transitioned from President to CEO on April 30, filling the position that Jeff Dudan vacated as he moved into a new role as the brand's Principal and Senior Advisor.
"I'm incredibly excited to step into this role and very thankful for the experiences that have prepared me for this leadership appointment," said Fisk, who previously led the development of several other major boutique fitness brands before joining RockBox Fitness. "Having the opportunity to develop other leaders within our ever-growing organization brings me a great amount of excitement and confidence for the future of RockBox Fitness."
Fisk brings more than 15 years of experience working with several prestigious brands across the globe. Before joining RockBox Fitness as President in 2020, she served as VP of International Operations for Orangetheory Fitness following an impressive stretch helping Snap Fitness grow from 25 clubs to more than 1700 worldwide. Despite those experiences, Fisk views RockBox Fitness as a franchise with a chance to become a leader in the boutique fitness space, both with members and franchisees around the nation.
"Leadership is not a position, but an action," said Fisk. "The franchisees can expect to see a team that is committed to action, always keeping their best interest in the forefront of our minds when making strategic decisions. I look forward to working with our team to build on the foundation that has already been laid, to ensure we positively change our members' lives while also driving both financial and personal growth for our franchisees."
Dudan will continue his work with the executive team to help RockBox Fitness achieve its franchise development goals. His role as Principal and Senior Advisor will allow him to contribute in recruiting and participating in the company's strategic direction, along with providing coaching to the executive team and home office staff in North Carolina.
"April's elevation to CEO creates room in our C-Suite to add game-changing executives to our team as we continue to accelerate the growth of the franchise network," Dudan said of the transition. "Simply put, the journey continues as we ascend RockBox to the front of the pack in fitness. April's extensive background in fitness with industry leading franchise brands provides her with the experience and know-how to lead an aggressive and fast-growing category leader like RockBox."
Both Dudan and Fisk have overseen a recent period of franchise growth as RockBox Fitness has currently awarded almost 100 franchise licenses, with 29 open studios and more than 20 additional studios already in development. Capitalizing on that growth with innovative new franchise development and support programs is their focus, provided that development happens within RockBox Fitness core values.
"My wish is that we will create a culture that trickles down from within our home office team, directly to the franchisees, that transcends to their studio staff, and ultimately to our members," said Fisk. "My passion is to make an impact not just in business but in individuals lives, empowering them to learn, grow, and become the best versions of themselves. My hope is this can be felt through our entire organization in a way that impacts our ability to be successful not only as a brand but as people."
###
About RockBox Fitness
Founded in 2017 and franchising since 2018, RockBox Fitness is a state-of-the-art fitness studio that combines boxing, kickboxing, and function weight training to help members get into shape. With strategically designed studios, advanced audio system and psychological mood-altering lights RockBox's workouts are an immersive experience for every member that walks through the door. Every workout from group fitness to personal training are designed to focus on an individual's improvement and self-esteem while increasing their strength and agility. Today, there are roughly 30 studios open and successfully operating in the United States, with numerous others in various stages of development across the country. For more information, visit http://www.rockboxfitness.com/.