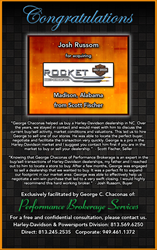 George is a pro in the Harley-Davidson market and I suggest you contact him first if you are in the market to buy or sell your dealership.
Irvine, California (PRWEB) November 18, 2016
The relationship between George Chaconas of Performance Brokerage Services and Scott Fischer dated back many years. "George Chaconas helped us buy a Harley-Davidson dealership in North Carolina. Over the years, we stayed in contact…this led us to hire George to sell one of our stores," shared Scott Fischer, the previous owner of the Rocket Harley-Davidson dealership in Madison, Alabama. Scott continued, "He was able to locate the perfect buyer, negotiate and facilitate the transaction very quickly." Scott Fischer will continue to own and operate 5 other Harley-Davidson dealerships in Florida, North Carolina and New Mexico. "Scott concluded, "George is a pro in the Harley-Davidson market and I suggest you contact him first if you are in the market to buy or sell your dealership."
The buyer, Josh Russom, was no stranger to the Harley-Davidson franchise or to the services provided by Performance Brokerage Services. Josh's family owns and operates the Harley-Davidson dealership of Montgomery, Alabama and in attempt to acquire a second dealership, Josh mentioned, "my father and I reached out to George Chaconas and Performance Brokerage Services to locate a store to buy, knowing that George is an expert in the buy/sell transactions of Harley-Davidson dealerships." He continued, "Rocket Harley-Davidson was a perfect fit to expand our footprint in our market area. George was able to effectively help us negotiate a win-win purchase that led to a very swift closing."
The dealership will operate under its new name, Redstone Harley-Davidson, and will remain at its current location of 15100 AL-20 in Madison, Alabama 35756. With a Google rating of 4.4 out of 5 stars, based on 40 reviews, Redstone Harley-Davidson should continue to enjoy the goodwill and reputation that Scott Fischer has built over the years.
George C. Chaconas, the exclusive agent for this transaction and the head of the National Harley-Davidson and Powersports Division for Performance Brokerage Services commented, "It brings me great pleasure to have worked again with Scott Fischer and his team to sell his dealership and to have helped the Russom family with buying another dealership in their area. I am hopeful that Josh will be successful with Redstone Harley-Davidson."
About Performance Brokerage Services
Performance Brokerage Services, an auto dealership broker, specializes in professional intermediary services to buyers and sellers of automotive, Harley-Davidson and Powersports dealerships.
The company offers a different approach to the automotive, Harley-Davidson and Powersports industries by providing complimentary dealership assessments, no upfront fees, no reimbursement of costs and is paid a success fee only. Performance Brokerage Services gets paid only after the client gets paid.
With over 24 years of experience, the company utilizes an extensive network of industry related accountants, attorneys, hundreds of registered buyers and enjoys longstanding relationships with most of the auto manufacturers and the Harley-Davidson Motor Company. The intermediaries at Performance Brokerage Services have been involved in well over 500 transactions. Pledging loyal and unwavering representation, confidentiality is vigilantly protected during the selling process and after the transaction closes.
With corporate offices in Irvine, California located at 7545 Irvine Center Drive, four satellite offices in Utah, Florida, Texas and New Jersey, and a dedicated Harley-Davidson and Powersports Division, Performance Brokerage Services provides its clients national exposure with local representation. For more information about the services offered by Performance Brokerage Services, visit https://performancebrokerageservices.com.