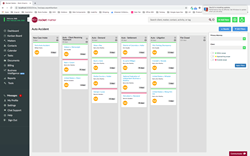 Older, client-server-based software is reaching end-of-life, and firms and legal departments leaving these systems need powerful new tools to not only keep up with but surpass their competition.
BOCA RATON, Fla. (PRWEB) February 26, 2020
Rocket Matter, a leading legal practice management, billing, and payments company, today announced the release of Mandalorian, one of its biggest product launches to date. The extensive new functionality allows mid and large-sized law firms to leverage enterprise features in a next-generation cloud application.
With Mandalorian, law firms may leverage the deepest, most robust integration with NetDocuments over any other practice management software on the market. Firms can further secure their operations with a level of specificity in ways they were never able to before with Rocket Matter's redesigned RM Permissions. Firms can track and manage their operational accounting with RM Trust, a completely revamped framework for reconciling bank accounts. Practitioners of Lean Law will be able to enjoy Kanban boards and sophisticated metric calculations.
"The more we work with law firms in the 20-200 employee range, the more we realize that there are better opportunities to serve them in ways that no other legal software company offers," stated Larry Port, CEO of Rocket Matter. "Older, client-server-based software is reaching end-of-life, and firms and legal departments leaving these systems need powerful new tools to not only keep up with but surpass their competition."
NetDocuments Integration
Rocket Matter is releasing a best-of-breed integration with the leading legal native cloud document management system, NetDocuments, taking advantage of the company's next-generation application programming platform. When Rocket Matter and NetDocuments are connected, users will benefit from automatic creation of a NetDocuments workspace for the electronic matter file, while managing the matter details in Rocket Matter.
"We applaud ISV Technology Partners like Rocket Matter and their commitment to delivering best-in-class integrations to our mutual customers," stated Reza Parsia, Vice President, Strategic Partner Management, NetDocuments. "The ability for users to stay in a familiar application like Rocket Matter and take care of all their document management needs and remain productive is very powerful."
Users can additionally leverage NetDocuments' full-text search from within Rocket Matter, allowing legal professionals to remain in their practice management application while being able to locate key phrases across their legal documents. They can then click to launch documents in NetDocuments from the Rocket Matter system, and view documents and folder structures and even associate billable time to their NetDocuments work product.
"We are so excited to work with NetDocuments," stated Port. "For the first time, Rocket Matter's users will be able to leverage a truly powerful document management system from within the same screens of their practice management workflow."
RM Permissions with Role-Based Access Control
Security is paramount when it comes to client information and firm financials. Most breaches are caused by insiders and are not sophisticated outside cyber attacks. That's why Rocket Matter built a way for law firms to secure their data, both outside and in, with the most configurable set of security permissions among its legal practice management peers.
With RM Permissions, Rocket Matter admins can specify (with great flexibility) the actions users can take inside of the product, down to the feature-level. RM Permissions introduces role-based access control, allowing users to be grouped into or assigned roles, which in turn can be authorized to perform actions in the system.
RM Trust with Matter-Based Accounting
In a massive overhaul to its operational accounting functionality, Mandalorian introduces the ability to create multiple operating and trust accounts. Users can then track trust deposits on a matter-by-matter basis. This new functionality expands upon Rocket Matter's original trust accounting reconciliation, which functioned on the client level. RM Trust is fully compatible with QuickBooks Online.
Support for Lean Law Firms
Rocket Matter's Port is a pioneer in bringing Lean methodologies to legal services, as the co-author of the ABA bestselling The Lean Law Firm and host of The Lean Law Firm Podcast.
To facilitate the adoption of Lean techniques, Rocket Matter now includes Kanban boards, which are built on top of Rocket Matter's robust Legal Project Management platform. Kanban boards give law firms a visual view into the flow of their cases, helping them to understand where bottlenecks are occurring and where all of their cases are in progress in one glance.
Additionally, Rocket Matter supports other critical Lean metrics, such as throughput rates and cycle time calculations. These calculations are part of RM Intelligence, which allows law firms to design their own custom reports.
RM Billing Updates
With its ability to generate and email thousands of invoices within minutes, RM Billing is widely considered the most powerful SaaS legal billing engine on the market. Now, Rocket Matter ups the ante with improvements to RM Recurring Billing, which solves one of the biggest challenges for law firms: Invoice collection.
With RM Recurring Billing, law firms maintain credit card or banking information securely on-file. They are then are able to create payment plans for clients to pay off invoices over time. They can also create new subscription-style services with recurring billing. With new improvements to RM Recurring Billing, law firms have ultimate flexibility, able to schedule automatic payments daily, weekly, biweekly, and monthly.
About Rocket Matter
Rocket Matter helps law firms offer better client service and also increase revenues by more than 20%. The company was the first cloud-based legal practice management software on the market, landing its first client in 2007. It has been a leader ever since.
Rocket Matter helps law firms transition from their legacy software to the most powerful, easy-to-use time and billing software in the industry. Also, when law firms want to make more money, go paperless, or increase confidence in their trust accounting, Rocket Matter helps them achieve those goals. With award-winning customer service based in the United States, it's no wonder thousands of law firms swear by Rocket Matter.
About NetDocuments
Founded in 1999, with more than 2,700 enterprise customers worldwide, NetDocuments is the legal industry's most trusted cloud-based content services and workflow platform. Complete with state-of-the-art built-in security, compliance and governance solutions, NetDocuments offers document management, email management and collaboration technology complete with disaster recovery, enterprise search, and matter centricity features. For more information about NetDocuments, please visit http://www.netdocuments.com.