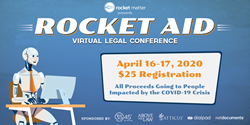 People in our society are at risk, with wage and food uncertainty suddenly a critical issue. Rocket Aid hopes to help with these concerns.
BOCA RATON, Fla. (PRWEB) March 30, 2020
Rocket Matter, a leading legal practice management, billing, and payments company, today announced Rocket Aid, a virtual conference for lawyers. This online networking and CLE event will not only help lawyers connect in this time of social distancing, but it will also generate much needed assistance for people most affected economically by the coronavirus.
Sponsors of Rocket Aid include 3545 Consulting, Above the Law, Atticus, Dialpad, and NetDocuments, which are helping with the content, promotion, and execution of the virtual conference.
Rocket Aid will stream live, online on April 16th and 17th, from 10am to 4pm EST each day. The content will cover cutting-edge topics on running an online practice, ways to generate more revenue, and embracing modern tools that will help law firms adapt and thrive in a changing world. In addition to attending educational sessions, participants will have the ability to network during face-to-face virtual "happy hours" and breakout sessions.
"This virus is hitting us all differently—while experts say that most of us will likely escape major sickness, everyone is affected one way or another," says Larry Port, CEO of Rocket Matter. "In the case of lawyers, we're beginning to see them lose their jobs as law firms lay people off. Those who are employed can't go to the office, attend court, get paid, attend CLEs, and even network with one another. Meanwhile other people in our society are also at risk, with wage and food uncertainty suddenly a critical issue. Rocket Aid hopes to help with these concerns.
Rocket Aid will charge a $25 registration fee which will be donated directly to United Way's COVID-19 Fund, Pro Bono Net, as well as Feeding America, a charity network of more than 200 food banks. Register online here.
Rocket Aid's content is mostly in place already, but the conference has a call for speakers for panels and additional suggested talks. Planned sessions include the following:

Panel: COVID-19 and Law Firm Operations: What are We Learning?
Session: Remote Lawyering Overview: The Tools You Need
Session: Hidden Gems of Office 365
Session: How to Increase Profits and Sanity by Running a Lean Law Firm
Session: Saying "Adios" to Billing Headaches and "Hola" to Increased Profitability
Session: A 12-Month Plan for Going Paperless
Session: Cybersecurity for the Remote Lawyer
Panel: COVID-19 Coverage and How to Think About PR
Panel: Remote Technology Do's and Don'ts
Panel: Staying Sane While Working Remote
Mini-session: An Economic Outlook for Lawyers During and After COVID-19 (non-CLE)
Mini-session: Setting Up an Ergonomic Home Office (non-CLE)
Rocket Matter is also looking for speakers for mini 3- and 6-minute sessions on their remote successes as well as lawyers who would like to offer their thoughts on panels. To apply for a speaker position, please apply here.
Links
Main Event Page: http://www.rocketmatter.com/rocketaid
Registration Page: http://www.rocketmatter.com/rocketaid-registration
Call for Speakers: http://www.rocketmatter.com/rocketaid-speakers
About Rocket Matter
Rocket Matter helps law firms offer better client service and also increase revenues by more than 20%. The company was the first cloud-based legal practice management software on the market, landing its first client in 2007. It has been a leader ever since.
Rocket Matter helps law firms transition from their legacy software to the most powerful, easy-to-use time and billing software in the industry. Also, when law firms want to make more money, go paperless, or increase confidence in their trust accounting, Rocket Matter helps them achieve those goals. With award-winning customer service based in the United States, it's no wonder thousands of law firms swear by Rocket Matter.