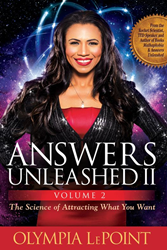 Make six decisions to create the future that you want.
LOS ANGELES (PRWEB) March 18, 2021
At the top of her Answers Unleashed ® speaking tour, TED speaker Olympia LePoint was flying to multiple cities and was reaching international success as a science entertainer and TV guest expert. Then at the doctor's office in 2019, she received the horrible news. She made six decisions that saved her life, then protected herself through a 2020 pandemic to heal. She used her NASA experience and faith to do it. Today, she writes a new book explaining the six decisions that can transform anyone's future.
In Answers Unleashed II: The Science of Attracting What You Want, LePoint defines a new decision-making science called Quantum Deciding. You can jump into the future that you want, then come back and make the six decisions to get there. Foreword by retired NASA astronaut Robert Curbeam and endorsed by top professors and technology CEOs, this exciting-to-read textbook explains human decision-making with her miraculous story and a unique science of its own. With Albert Einstein's quantum entanglement brilliantly explained, the book introduces decision-making exercises, new mathematics, and the three time-versions-of-you who work together for your success. The book's future thinking methods can unleash answers in personal goal setting, women's leadership, diversity and inclusion training, STEM education, climate change reversal, university retention, NASA missions, and new quantum internet technology. Make decisions in a fearless way, so you can jump through time, withstand the test of time, and meet the successful YOU!

Learn 'Your Science of Attraction' & the Power in Your Decisions
Travel Back in Time to Remove the 6 Roots of Indecisiveness
Jump into the Future and Determine Your Immediate Next Steps
Learn New Information to Multiply Limited Resources for Your Best Outcomes
LePoint will virtually give a TED-like talk about her latest book, Answers Unleashed II, in a Distinguished Lecture Series at California State University Northridge this April 28, 2021.
-----------------------------------------------------
ABOUT OLYMPIA LEPOINT
------------------------------------------------------
Hailed the "New Einstein" by her fans, and named the "Modern Day Hidden Figure" by People Magazine, Olympia LePoint is an award-winning rocket scientist, author and TED speaker seen by over 17 Million viewers. She gave the TED talk "Reprogramming Your Brain to Overcome Fear" which has gained more than 1 Million views. Her Impact Theory episode and related clips have gained more than 2 Million views. LePoint helped launch 28 NASA Space Shuttle missions into space. Today, LePoint's Mission Control Room desk is a science exhibit at the California Science Center in Los Angeles. In her youth, she overcame severe poverty, and failing math scores by reprogramming her brain, which led her to graduate Top 5 from a 6,500 graduating class with advanced degrees in Mathematics from California State University Northridge.
LePoint has been seen on TED Talks, NBC News, the CW, CBS News reports, PBS, and Impact Theory. Currently, LePoint regularly appears on CBS News as a guest expert explaining NASA/SpaceX launches and writes as a science journalist on Thrive Global. In 2021, LePoint appears on the new AMAZON Prime TV show "PROOF" and explains contents from her books Mathaphobia, Answers Unleashed, and Answers Unleashed II: The Science of Attracting What You Want. Read more about her Answers Unleashed® science book series on AnswersUnleashed.com/books.