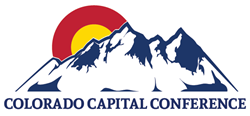 Rockies Venture Club's (RVC) annual Colorado Capital Conference (CCC) is now celebrating 30 years of connecting entrepreneurs and investors throughout the Rocky Mountain Region.
DENVER (PRWEB) November 08, 2018
Rockies Venture Club's (RVC) annual Colorado Capital Conference (CCC) is now celebrating 30 years of connecting entrepreneurs and investors throughout the Rocky Mountain Region. The event will kick-off Tuesday, November 13th with an evening Gala at The Commons on Champa in Downtown Denver. The evening will include networking and happy hour, community awards, and an introduction to the companies and sponsors that will be involved in the event. The full-day conference will then take place on Wednesday, November 14th at Noah's Event Center in Westminster.
This year's conference will focus on the theme of Investing Locally, the idea that investing in local companies can result in strong financial returns while building a self-reliant community. At its core, investing locally is about tapping into the existing capital in our community to empower investors, entrepreneurs, and individuals to collaborate in a way that benefits us all. The conference will feature pitches from eight companies, an expert-filled "Investing in the Rest" Panel, and Keynote Speaker Ross Baird, Co-founder of Village Capital and author of The Innovation Blind Spot: Why We Back the Wrong Ideas—and What to Do About It.
During the conference, Ross Baird is expected to present to over 250 early-stage investors, entrepreneurs, and engaged community members. Baird's speech will provide insights on the "one-pocket thinking" approach to investing; identifying that investors can have community impacts through their investments while still generating sizable returns. Although traditional venture capital investors target a high failure rate, and very high success rate, Baird has found success in providing capital to blue-collar projects in cities outside of the usual startup communities such as California, New York, and Massachusetts. Baird's investment strategy has seen significantly higher survival and success rates than the typical venture fund while making a difference in American communities that truly need investment. His expertise will be essential in helping the audience navigate the quickly changing and increasingly popular impact investing landscape while providing valuable insights on investing locally.
Through Village Capital, Ross has focused on providing access to opportunity for startups in underserved communities. Since starting Village Capital in 2009, the organization has raised $18M and invested $8M across 70 companies, creating a vast positive impact felt throughout atypical startup communities that often have less access and exposure to venture capital. For the past year, Baird has also been an Innovator-in-Residence with the Ewing Marion Kauffman Foundation, where he has been working with the foundation on a strategy to remove barriers to access to capital for the 81% of entrepreneurs who do not receive formal financing.
"Rockies Venture Club is excited for Ross to share his insights on the rise of impact investing and his "one-pocket" investment strategy," says RVC Executive Director Peter Adams. "We have been studying this concept for several years, and have been inspired by the thinking and writing of Ross Baird."
In addition to Baird, the "Investing in the Rest" panel will feature leading Intra-coastal Angel Investors & Venture Capital Leaders, including Stephanie Spong (Royal Street Venture), Allie Esch (Dundee VC), Pat LaPointe (Frontier Angels) and Moderator Tricia Meyer (Meyer Law).
With industry leading speakers and eight investment-ready companies, this year's conference is sure to be the best one yet! If you are interested in attending the 30th annual Colorado Capital Conference, please visit the website at http://www.coloradocapitalconference.org to register and learn more.
About the Rockies Venture Club: Rockies Venture Club is the longest running and one of the largest Angel Groups in the U.S., founded in 1985, whose mission is to advance economic development by actively connecting the most promising entrepreneurial companies with Angel investors, venture capitalists, and other community members. Every year Rockies Venture Club offers over 140 educational programs, mastermind groups, Angel forums, and two major conferences for both investors and entrepreneurs.