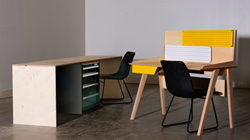 "With so many people working from home, there is a real increased need for workspaces. We think more than a challenge, this is an unprecedented opportunity for people to get really creative with the types of solutions that are possible." - Scott Eckman, Vice President of Marketing at Rockler
MEDINA, Minn. (PRWEB) September 29, 2020
Rockler Woodworking and Hardware is calling on woodworkers to take part in the #RocklerDeskChallenge hosted by woodworking YouTubers Mike Montgomery, Chris Salomone and Ben Uyeda from The Modern Maker Podcast. Entries for cool and unique desk creations are due by November 5 by posting photos or videos to Instagram or YouTube using the hashtag #RocklerDeskChallenge.
The first, second and third place winners of the #RocklerDeskChallenge will each receive a Rockler gift card for $500, $250 and $125, respectively. Learn more about the challenge online at http://www.rockler.com/desk-challenge.
"With so many people working from home and kids distance learning, there is a real increased need for workspaces and for coming up with new solutions that'll get people through these next several months," said Scott Eckman, Vice President of Marketing at Rockler. "We think more than a challenge, this is an unprecedented opportunity for people to get really creative with the types of solutions that are possible."
Participants of the #RocklerDeskChallenge are called on to create desks as large or small as they wish. In addition to sharing their final photos or videos, participants are encouraged to track their progress by posting photos and videos during the creation of the project.
"Our hope is that anybody following the hashtag, be it in real-time, or 10 years from now, can find a wellspring of inspiration and ideas to implement," said Salomone.
Last year, Rockler hosted the #RocklerBentwoodChallenge in which the winner, Bart Komar of New Lenox, Illinois, made a bent lamination bike. Salomone said it's those out-of-the box ideas that amaze the judges.
"We hope we're surprised with the results," Salomone said. "We're not looking solely for perfect craftsmanship or execution. While those things are great and important, what excites us most are the things that we can't possibly predict."
About Rockler Woodworking and Hardware
Celebrating its 65th anniversary as a family-run business, Rockler Woodworking and Hardware is the nation's premier supplier of specialty hardware, tools, lumber and other high-quality woodworking products. Rockler has 37 retail locations across 20 states – plus 60 independent reseller locations nationwide, as well as extensive catalog and internet operations.
To learn more about Rockler, visit http://www.rockler.com or call 1-877-ROCKLER.