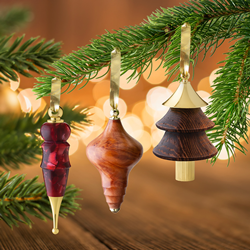 "There's something special about giving a gift that is handmade, and these classes give people a great way to create one-of-a-kind gifts for their loved ones, while giving them skills to pick up more of their own projects down the road."— Scott Ekman, VP of Marketing at Rockler
MEDINA, Minn. (PRWEB) November 19, 2021
Family-owned Rockler Woodworking and Hardware, one of the nation's premier retailers of woodworking tools and supplies, is offering new and experienced woodworkers the opportunity to make and give the gift of a handmade item with special classes throughout the month. The events kick off with December 4 Make a Gift classes where participants can make coffee scoops for the java lovers in their lives. Participants can register online or in-store for a class at their nearest Rockler location.
Beyond the December 4 classes, Rockler offers other classes unique to each store where participants can start mastering a variety of woodworking skills, like woodturning, sanding and finishing.
"There's something special about giving a gift that is handmade, and these classes give people a great way to create one-of-a-kind gifts for their loved ones, while giving them skills to pick up more of their own projects down the road," said Scott Ekman, VP of Marketing at Rockler.
Each class will last up to three hours and will focus on a single project. The enrollment fee for the coffee scoop class is $30, including tools, supplies, and safety gear. Costs for all classes are listed online. Classes are limited to those who are 18 and older. Registration and additional details on local classes are available at specific store websites found at https://www.rockler.com/retail/stores/
About Rockler Woodworking and Hardware:
Celebrating its 67th anniversary as a family-run business, Rockler Woodworking and Hardware is the nation's premier supplier of specialty hardware, tools, lumber, and other high-quality woodworking products. Rockler has 38 retail locations across 21 states, as well as extensive internet and catalog operations.
To learn more about Rockler, please visit http://www.rockler.com or call 1-877-ROCKLER.
###