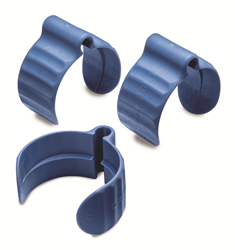 "These new Dust Right® products solve problems in situations where woodworkers might otherwise decide dust collection isn't worth the trouble." - Steve Krohmer, Rockler's vice president of product development
MEDINA, Minn. (PRWEB) January 10, 2020
Rockler Woodworking and Hardware has expanded its Dust Right® line of dust collection accessories with new products that help keep cords and hoses in line and allow users to mount quick-connect dust fittings near their tools.
The new Dust Right® Dust Hose Cord Clips fit snugly over the dust hose running from a shop vacuum to a portable power tool and hold the cord so that users don't have to wrangle them individually. Made from durable plastic with an easy-to-grip texture, the clips are sold in packs of three in three different sizes, to fit 1-1/2", 2-1/4" and 2-1/2" diameter hoses. The design includes a rib on the underside matching the hose's spiral to help prevent the clips from shifting during use and a channel on top that holds cords up to 3/8" in diameter but allows them to slide as the hose is flexed.
The patent-pending Dust Right® Mountable Dust Couplers make it easy to install a readily accessible dust collection dock wherever one is needed. They feature a broad mounting base with four reinforced screw holes for attaching to the top or underside of a bench or table, to the side of a cabinet or to a wall — anyplace it would be helpful to have a stationary port.
Three different versions of couplers are available: 2-1/2"-to-2-1/2", 2-1/2"-to-4" and 4"-to-4". The outside diameter of the 2-1/2" ports fits standard 2-1/2" dust hose, but the ports also have a 2-1/4" inside diameter into which the Dust Right® Shop Vacuum Handle (sold separately) fits, allowing users to quickly move a single shop-vacuum hose from tool to tool. The 4" ports feature a stepped design that fits both a standard 4" dust hose, as well as the Dust Right® Quick Change Handle (sold separately), providing the same quick-connect capability with a larger 4" dust hose. The 2-1/2"-to-4" coupler is ideal when a user needs to step down from a 4" main dust line to a 2-1/2" hose for smaller benchtop tools.
"Because dust collection is so important to woodworkers' health and safety, we're always looking for ways to minimize any hassles or obstacles involved," said Steve Krohmer, Rockler's vice president of product development. "These new Dust Right® products solve problems in situations where woodworkers might otherwise decide dust collection isn't worth the trouble."
The Dust Right® 1-1/2" Dust Hose Cord Clips (55678) are priced at $7.99 for a pack of three, while the 2-1/4" Cord Clips (51774) and 2-1/2" Cord Clips (50715) are priced at $9.99 per three-pack. The Dust Right® 2-1/2" Mountable Dust Coupler (54955) and 2-1/2"-to-4" Mountable Dust Coupler (59056) are priced at $9.99 each, while the 4" Mountable Dust Coupler (58448) is priced at $12.99. All are available for purchase exclusively online at http://www.rockler.com or at Rockler Woodworking and Hardware stores nationwide, as well as through the Rockler catalog. For store locations or a free catalog, visit http://www.rockler.com or call 1-877-ROCKLER.
About Rockler Woodworking and Hardware
Celebrating its 65th anniversary as a family-run business, Rockler Woodworking and Hardware is the nation's premier supplier of specialty hardware, tools, lumber and other high-quality woodworking products. Rockler has 37 retail locations across 20 states, as well as extensive catalog and internet operations.
To learn more about Rockler, please visit http://www.rockler.com or call 1-877-ROCKLER, and follow us on social media: