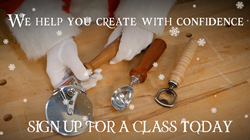 "These classes will provide attendees with the know-how to create heartfelt, one-of-a-kind gifts for their friends and family this holiday season." -Scott Ekman, Rockler VP of Marketing
MEDINA, Minn. (PRWEB) November 21, 2019
This holiday season, Rockler Woodworking and Hardware is giving the gift of a unique opportunity for anyone to create a handmade gift at all of its stores nationwide through hands-on classes December 7. Class participants can learn new woodworking skills using a lathe to craft items to give away as holiday gifts.
Rockler will host the Handmade Gift classes on Saturday, December 7 at 9:30 a.m., 11:30 a.m., 1:30 p.m. and 3:30 p.m. at each of its 37 store locations. Each participant can choose between making a pizza cutter, bottle opener or ice cream scoop, all while learning woodturning basics from an experienced Rockler instructor. Participants can sign up online or in-store for any of the classes, and everyone will leave with a completed project.
"These classes will provide attendees with the know-how to create heartfelt, one-of-a-kind gifts for their friends and family this holiday season," said Scott Ekman Rockler's vice president of marketing. "No experience is necessary for everyone to go home with new skills and the satisfaction of making a special gift completely by hand."
Class size will be limited from three to eight participants so there is plenty of one-on-one help available to attendees. The enrollment fee for each class is $35, which includes wood for the handle, plus an additional fee to purchase the hardware kit of their choice (cost of $9.99-$19.99 + sales tax). Registration and additional details on local classes are available at http://www.rockler.com/makeandtake.
The projects made in class, as well as many handmade gift ideas for the people on your list, can be found at Rockler's online Handmade Gift Guide, which includes project outlines and the tools necessary to make items such as a mini wireless speaker, bar tools, gardening tools, cribbage boards and more: http://www.rockler.com/handmade-gifts.
Video outlining the Handmade Gift class items can be found via this Dropbox link: https://www.dropbox.com/sh/r1pqnyqsezadx4z/AABkJ_9BDd_30e0nAAD1MFyda?dl=0
About Rockler Woodworking and Hardware
Celebrating its 65th anniversary as a family-run business, Rockler Woodworking and Hardware is the nation's premier supplier of specialty hardware, tools, lumber and other high-quality woodworking products. Rockler has 37 retail locations across 20 states, as well as extensive catalog and internet operations. To learn more about Rockler, visit http://www.rockler.com or call 1-877-ROCKLER, and follow us on social media: