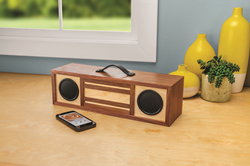 "The single speaker kits have been really popular because they're a fun, easy and functional project. Now woodworkers and do-it-yourselfers can build a custom wireless speaker system that offers true stereo sound." — Steve Krohmer, Rockler's vice president of product development
MEDINA, Minn. (PRWEB) April 09, 2020
Following the success of its single wireless speaker kit, Rockler Woodworking and Hardware has introduced a new Stereo Wireless Speaker Kit that allows users to craft their own custom enclosure to house two speakers that project true stereophonic sound.
Like the single-speaker kit, the Rockler Stereo Wireless Speaker Kit (https://www.rockler.com/rockler-stereo-wireless-speaker-kit-with-2-speakers-and-playback-volume-controls) plays audio from any Bluetooth®-enabled device and incorporates a control unit that includes full playback and volume controls, as well as a 3.5mm auxiliary input jack for connecting another device. Color-coded wires and quick-connect terminals simplify the electrical connections and eliminate any need for soldering. The rechargeable battery offers up to 4 hours of playing time per charge, and a USB charging cable is included.
"The single speaker kits have been really popular because they're a fun, easy and functional project," said Steve Krohmer, Rockler's vice president of product development. "Now woodworkers and do-it-yourselfers can build a custom wireless speaker system that offers true stereo sound."
Users just need to build a small box or case from the material of their choice and drill two 2-3/4"-diameter holes for the speakers and a 1-7/8" hole for the control unit. The 12" wires allow for spacing of the speakers, and wiring is as simple as snapping the color-coded connectors into color-coded ports on the control unit. A black bezel on the outside of all units hides any small irregularities in the mounting holes.
To help users get started, Rockler has developed a free downloadable project plan (https://go.rockler.com/plans/stereo-speaker-box-plan.pdf) for a custom speaker box to house the components.
The Rockler Stereo Wireless Speaker Kit (50995) is priced at $39.99 and is available for purchase exclusively online at http://www.rockler.com or at Rockler Woodworking and Hardware stores nationwide, as well as through the Rockler catalog. For store locations or a free catalog, visit http://www.rockler.com or call 1-877-ROCKLER.
About Rockler Woodworking and Hardware
Celebrating its 65th anniversary as a family-run business, Rockler Woodworking and Hardware is the nation's premier supplier of specialty hardware, tools, lumber and other high-quality woodworking products. Rockler has 37 retail locations across 20 states, as well as extensive catalog and internet operations.
To learn more about Rockler, please visit http://www.rockler.com or call 1-877-ROCKLER, and follow us on social media: