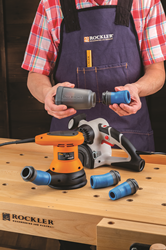 "The FlexiPort Dust Canister is a great upgrade because you get much better passive dust containment and — with the four flexible ends — it can be switched from tool to tool." - Steve Krohmer, Rockler's vice president of product development
MEDINA, Minn. (PRWEB) May 06, 2020
Rockler Woodworking and Hardware has combined the broad tool compatibility of its FlexiPort couplers with the improved dust containment of a canister with a reusable 10-micron filter to create an upgrade to the dust bags that come standard with many small power tools.
The Dust Right FlexiPort Dust Canister (https://www.rockler.com/dust-right-flexiport-dust-canister) comes with four interchangeable rubber couplers in a range of diameters to fit ports on the vast majority of small handheld power tools on the market. The couplers all attach to the dust canister with a twist-and-lock motion, allowing the canister to be switched easily between tools. The reusable filter — which captures particles as small as one-fifth the width of a human hair — is attached to a threaded end cap that also twists on and off easily for emptying and cleaning. The dust canister itself is made from translucent plastic, so it's easy to see when it's getting full.
"A lot of the dust bags that come with small power tools like random-orbit sanders are pretty flimsy and ineffective," said Steve Krohmer, Rockler's vice president of product development. "The FlexiPort Dust Canister is a great upgrade because you get much better passive dust containment and — with the four flexible ends — it can be switched from tool to tool."
The flexible rubber couplers that are included with the Dust Right FlexiPort Dust Canister include one with a 3/4" inside diameter and 1-1/4" outside diameter that can be stretched over a tool port or pressed into a tool port; one with a 1" inside diameter; one with 1-1/4" inside diameter; and one with a 1-1/2" inside diameter. The filter is permanently attached to the dust canister's removable end cap to make it easier to clean by shaking it or hitting it with a gentle puff of air.
The Dust Right FlexiPort Dust Canister (50319) is priced at $19.99 and is available for purchase exclusively online at http://www.rockler.com or at Rockler Woodworking and Hardware stores nationwide, as well as through the Rockler catalog. For store locations or a free catalog, visit http://www.rockler.com or call 1-877-ROCKLER.
About Rockler Woodworking and Hardware
Celebrating its 65th anniversary as a family-run business, Rockler Woodworking and Hardware is the nation's premier supplier of specialty hardware, tools, lumber and other high-quality woodworking products. Rockler has 37 retail locations across 20 states, as well as extensive catalog and internet operations.
To learn more about Rockler, please visit http://www.rockler.com or call 1-877-ROCKLER, and follow us on social media: