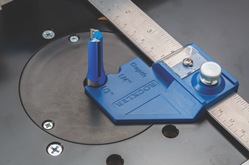 "Setting the distance from the fence and the cutting height of the bit are two of the most important operations when routing grooves or flutes. The Rockler Router Bit Center Depth Gauge allows you to do both quickly and accurately." -Steve Krohmer, Rockler VP for Product Development
MEDINA, Minn. (PRWEB) October 10, 2019
Rockler Woodworking and Hardware has developed a tool to help make it quicker and easier to achieve pinpoint accuracy in common router setup operations.
The Rockler Router Bit Center Depth Gauge (https://www.rockler.com/rockler-router-bit-center-depth-gauge) enables users to quickly set the fence on a table-mounted router – or an edge guide on a handheld router – an exact distance from the center of the bit, which is essential when routing dadoes, grooves or flutes. The gauge also can be used to precisely set the cutting height of router bits and saw blades.
"Setting the distance from the fence and the cutting height of the bit are two of the most important operations when routing grooves or flutes," said Steve Krohmer, Rockler's vice president for product development. "The Rockler Router Bit Center Depth Gauge allows you to do both quickly and accurately."
To set up a router table for cutting grooves or dadoes, the user slides the clear beveled indicator to the desired metric or imperial mark on the 12" rigid steel ruler and locks in the setting by tightening the knurled knob. Then the user moves the gauge up to the bit, fitting the correct half-round slot – 1/4" or 1/2" – tight to the bit's shank. Holding the gauge against the bit shank, the user adjusts the router table fence until it's tight against the broad foot at the bottom of the ruler and locks down the fence. The head of the gauge also includes a flat "depth" section for measuring from the edge or the top of a cutter, allowing the gauge to be used to set bit or blade cutting height.
The Rockler Router Bit Center Depth Gauge (55010) is priced at $19.99 and can be purchased exclusively online at http://www.rockler.com or at Rockler Woodworking and Hardware stores nationwide, as well as through the Rockler catalog. For store locations or a free catalog, visit http://www.rockler.com or call 1-877-ROCKLER.
Photos of the Rockler Router Bit Center Depth Gauge can be viewed via this Dropbox link: https://www.dropbox.com/sh/wxegxl1vq9g28vk/AADphsQivEIykiSg3_bVlsCra?dl=0
About Rockler Woodworking and Hardware
Celebrating its 65th anniversary as a family-run business, Rockler Woodworking and Hardware is the nation's premier supplier of specialty hardware, tools, lumber and other high-quality woodworking products. Rockler has 37 retail locations across 20 states – plus 60 independent reseller locations nationwide, as well as extensive catalog and internet operations.
To learn more about Rockler, please visit http://www.rockler.com or call 1-877-ROCKLER, and follow us on social media:
-Facebook: https://www.facebook.com/Rockler
-Instagram: https://www.instagram.com/rockler_woodworking/
-Twitter: https://twitter.com/Rockler
-YouTube: https://www.youtube.com/user/RocklerWoodworking
-Pinterest: https://www.pinterest.com/Rockler/