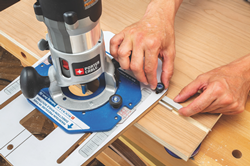 "This jig takes the hassle out of cutting multiple dadoes for making cubbies or drawer dividers, and it's ideal for cutting kerfs for bending plywood forms. Plus, there's no limit to how long your workpiece can be." - Dan Wenning, Director of Product Development
MEDINA, Minn. (PRWEB) December 17, 2020
Routing a series of precisely spaced dadoes for dividers when building projects like a shoe cubby or mail sorter can be a time-consuming challenge, with lots of finicky measuring and the tedious repositioning of clamp or straightedge guides.
Rockler Woodworking and Hardware has a solution to those problems: the Rockler Indexing Dado Jig. This award-winning product allows the user to set the distance between dadoes and features an adjustable fence that guides the first cut, then rides in that cut to index the next cut, and so on. The result: consistent, parallel spacing without measuring or messing with straightedge guides.
"This jig takes the hassle out of cutting multiple dadoes for making cubbies or drawer dividers, and it's ideal for cutting kerfs for bending plywood forms," said Dan Wenning, Rockler's director of product development. "Plus, there's no limit to how long your workpiece can be, unlike when cutting dadoes at a table saw and using the fence as a guide."
The Indexing Dado Jig has already won industry recognition, with the editors of WOOD Magazine highlighting it in the December issue as one of the most innovative tools for 2021.
The jig features a 1/2" thick MDF base with high-pressure laminate surface on both sides and a reinforced plastic baseplate predrilled for mounting most popular routers. The baseplate slides and locks in along the MDF base to set the spacing between dadoes; clear indicators on the baseplate and marked aluminum rules on the base simplify setup.
The jig's adjustable fence is made up of two parts, one fixed and one movable. The fixed fence guides initial cut, then adjusts to fit the dado. For subsequent dadoes, it fits in the dado just cut, automatically spacing the dadoes evenly without the need for extra guides. The jig works with 1/8" diameter bits, as well as bits from 1/4" to 3/4" in diameter, and spacing can be set from 1/8" to 6-9/16", depending on the bit diameter.
The Rockler Indexing Dado Jig (59237) is priced at $69.99 and is available for purchase exclusively online at http://www.rockler.com or at Rockler Woodworking and Hardware stores nationwide, as well as through the Rockler catalog. For store locations or a free catalog, visit http://www.rockler.com or call 1-877-ROCKLER.
About Rockler Woodworking and Hardware
Celebrating its 66th anniversary as a family-run business, Rockler Woodworking and Hardware is the nation's premier supplier of specialty hardware, tools, lumber and other high-quality woodworking products. Rockler has 37 retail locations across 20 states, as well as extensive catalog and internet operations.
To learn more about Rockler, please visit http://www.rockler.com or call 1-877-ROCKLER, and follow us on social media: