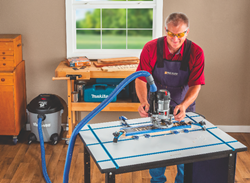 "The new FlexiPort hose kit gives users another option so they can choose which type of hose best fits the way they work" -Steve Krohmer, Rockler VP of Product Development
MEDINA, Minn. (PRWEB) November 20, 2019
Rockler Woodworking and Hardware has expanded its line of dust collection solutions for handheld power tools with a new kit featuring a 12' fixed-length hose and four sizes of rubber-ended couplers that flex to fit the ports on a wide range of tools.
The Dust Right FlexiPort Power Tool Hose Kit with 12' Hose (https://www.rockler.com/dust-right-flexiport-power-tool-hose-kit-12-foot-hose) allows woodworkers and DIYers to use a single hose to connect their shop vacuum to the vast majority of their handheld power tools. It eliminates the need to buy multiple individual adapters or rig makeshift fittings to capture dust generated by plunge routers, belt sanders and other tools from popular brands such as Bosch, DeWalt, Festool, Makita, Triton and more.
The new kit provides many of the same benefits as Rockler's award-winning Dust Right Universal Small Port Hose Kit but includes two additional ports and a kink- and crush-resistant hose that doesn't expand and recoil – especially helpful when working on larger projects that require greater range of movement. With the introduction of the new kit, the original is being renamed "FlexiPort Power Tool Hose Kit with 3' to 12' Expandable Hose" (https://www.rockler.com/dust-right-universal-small-port-hose-kit) to reflect the growing family of products that incorporate or work with the flexible couplers.
"The new FlexiPort hose kit gives users another option so they can choose which type of hose best fits the way they work," said Steve Krohmer, Rockler's vice president of product development. "The original kit is ideal for benchtop work, while the new hose makes it easier to move around when working on larger projects or away from the bench."
The Dust Right FlexiPort Power Tool Hose Kit with 12' Hose includes the fixed-length hose, a 2-1/4" outside-diameter swiveling port that fits standard shop vacuums, and the four flexible tool ports: one with a 3/4" inside diameter and 1-1/4" outside diameter that can be stretched over a tool port or pressed into a tool port; one with a 1" inside diameter; one with 1-1/4" inside diameter; and one with a 1-1/2" inside diameter.
The ports reverse thread onto the hose for an airtight friction fit, so no tools or hose clamps are required.
The Dust Right FlexiPort Power Tool Hose Kit with 12' Hose (51170) is priced at $59.99 and can be purchased exclusively online at http://www.rockler.com or at Rockler Woodworking and Hardware stores nationwide, as well as through the Rockler catalog. For store locations or a free catalog, visit http://www.rockler.com or call 1-877-ROCKLER.
About Rockler Woodworking and Hardware
Celebrating its 65th anniversary as a family-run business, Rockler Woodworking and Hardware is the nation's premier supplier of specialty hardware, tools, lumber and other high-quality woodworking products. Rockler has 37 retail locations across 20 states, as well as extensive catalog and internet operations.
To learn more about Rockler, visit http://www.rockler.com or call 1-877-ROCKLER, and follow us on social media:
-Facebook: https://www.facebook.com/Rockler
-Instagram: https://www.instagram.com/rockler_woodworking/
-Twitter: https://twitter.com/Rockler
-YouTube: https://www.youtube.com/user/RocklerWoodworking
-Pinterest: https://www.pinterest.com/Rockler/