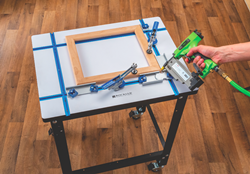 "The larger T-Track Tabletop has earned a spot in many shops because of its extraordinary clamping versatility. This 20" x 26" model delivers the same versatility in a size that's more suitable for areas with space limitations." -Steve Krohmen, Rockler VP of Product Development
MEDINA, Minn. (PRWEB) December 04, 2019
Rockler Woodworking and Hardware has developed a smaller version of its popular T-Track Tabletop that packs the work-holding versatility of the original into a model sized to fit a small shop or hobby room.
Like its 28" x 40" sibling, the 20" x 26" T-Track Tabletop (https://www.rockler.com/rockler-t-track-tabletop-20-x-26) features a recessed grid of extruded aluminum T-Track that accepts Rockler T-Track System clamps, hold-downs and stops. The T-Track is laid out to allow users to clamp objects anywhere on the table for fast and stable sawing, sanding, routing or assembly, and it also works with Bench Cookie® Plus Work Grippers and Bench Cookie T-Track Risers to provide extra clearance between the workpiece and the table when needed.
"The larger T-Track Tabletop has earned a spot in many shops because of its extraordinary clamping versatility," said Steve Krohmer, Rockler's vice president of product development. "This 20" x 26" model delivers the same versatility in a size that's more suitable for areas with space limitations."
The new T-Track Tabletop is made from durable, low-friction melamine-coated MDF with 3mm black edge banding. It is 1-1/16" thick, and the built-in grid features four sections of Universal T-Track - two running horizontally and two running vertically, with four intersections - that accept both 5/16" T-bolts and 1/4" T-bolts, as well as 1/4" hex-bolts. The tabletop can be mounted to a custom base or to an 18" x 24" Rockler Steel Stand (sold separately).
The 20" x 26" T-Track Tabletop (57680) is priced at $149.99 and can be purchased exclusively online at http://www.rockler.com or at Rockler Woodworking and Hardware stores nationwide, as well as through the Rockler catalog. For store locations or a free catalog, visit http://www.rockler.com or call 1-877-ROCKLER.
Photos of the T-Track Tabletop can be found via this Dropbox link: https://www.dropbox.com/sh/r8wtbnphrk3zn5k/AACk9Ucfohi_P2wcxR4U9gxUa?dl=0
About Rockler Woodworking and Hardware
Celebrating its 65th anniversary as a family-run business, Rockler Woodworking and Hardware is the nation's premier supplier of specialty hardware, tools, lumber and other high-quality woodworking products. Rockler has 37 retail locations across 20 states, as well as extensive catalog and internet operations.
To learn more about Rockler, visit http://www.rockler.com or call 1-877-ROCKLER, and follow us on social media:
-Facebook: https://www.facebook.com/Rockler
-Instagram: https://www.instagram.com/rockler_woodworking/
-Twitter: https://twitter.com/Rockler
-YouTube: https://www.youtube.com/user/RocklerWoodworking
-Pinterest: https://www.pinterest.com/Rockler/