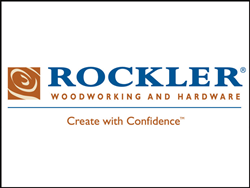 "Setting a miter gauge to cut tight-fitting pieces for multi-sided frames or segmented turnings can be really time-consuming and frustrating. These blocks make accurate setup a breeze." - Dan Wenning, Rockler's director of product development
MEDINA, Minn. (PRWEB) November 10, 2020
Rockler Woodworking and Hardware has introduced two new table-saw accessories: Perfect Miter Setup Blocks, which simplify the setup for accurate angled cuts with a miter gauge, and the Small Parts Taper Jig, which makes it easier and safer to cut precise tapers on small workpieces.
The Perfect Miter Setup Blocks include three blocks that fit onto the 3/4" bar of a standard miter gauge, enabling the user to quickly and accurately set the gauge's face to cut miters for four- to 12-sided segmented frames or turning blanks. They eliminate the need for complicated angle calculations, eye-straining struggles to set the gauge at fractions of a degree and endless test cuts to land on the right setting.
There's one setup block for four-, five- and six-sided frames; one for seven-, eight- and nine-sided frames; and one for 10-, 11- and 12-sided frames. The blocks are made from durable reinforced plastic with aluminum top plates clearly marked for easy use. The user picks the block and face for the desired number of sides, fits the block onto the miter gauge's bar and sets miter gauge face so it's snug to the setup block.
"Setting a miter gauge to cut tight-fitting pieces for multi-sided frames or segmented turnings can be really time-consuming and frustrating," said Dan Wenning, Rockler's director of product development. "These blocks make accurate setup a breeze."
The Small Parts Taper Jig is designed specifically to make accurate tapered cuts on smaller workpieces at the table saw while also keeping the user's hands away from the blade. It features two specially designed hold-down clamps that are made from reinforced plastic with non-marring rubberized ends. The clamps hold smaller workpieces securely in place but won't damage cutters in case of inadvertent contact.
The 7-1/4"-wide x 11-1/2"-long x 1/2"-thick melamine-coated MDF platform has three sets of mounting holes for the 11"-long miter bar, allowing the jig to work on a variety of table saws, and it's trimmed during setup to provide zero-clearance support for clean cuts. The jig also has indexing marks every 1/4" at the ends to provide reference points for setting the taper, easy-to-grip knobs and handles with rubber overmolds, and non-slip strips to help prevent workpiece shifting during use.
"We've offered a larger Taper/Straight-Line Jig that has been hugely successful, but it can be a little cumbersome for smaller projects," Wenning said. "So we scaled the design and created new hold-downs especially for smaller projects."
As part of the Small Parts Taper Jig introduction, Rockler has created free downloadable plans for two wall-clock projects that are much easier to build with the jig – one for a modern-looking Sunflower Clock and one for a Mid-Century Star Clock.
Rockler's Perfect Miter Setup Blocks (66595) are priced at $39.99 for the three-piece set, and the Small Parts Taper Jig (57550) is priced at $69.99. Both are available for purchase exclusively online at http://www.rockler.com or at Rockler Woodworking and Hardware stores nationwide, as well as through the Rockler catalog. For store locations or a free catalog, visit http://www.rockler.com or call 1-877-ROCKLER.
About Rockler Woodworking and Hardware
Celebrating its 66th anniversary as a family-run business, Rockler Woodworking and Hardware is the nation's premier supplier of specialty hardware, tools, lumber and other high-quality woodworking products. Rockler has 37 retail locations across 20 states, as well as extensive catalog and internet operations.
To learn more about Rockler, please visit http://www.rockler.com or call 1-877-ROCKLER, and follow us on social media: