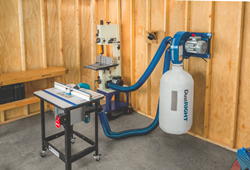 "With the Dust Right® 1250, you don't lose any floor space, and you get dust collection that's powerful enough to handle just about anything a home or garage shop can throw at it." -Steve Krohmer, Rockler's vice president for product development
MEDINA, Minn. (PRWEB) September 17, 2019
Rockler Woodworking and Hardware has developed a solution for woodworkers who need high-powered dust collection but don't want to sacrifice shop floor space: the new Dust Right® 1250 CFM Wall-Mount Dust Collector.
The machine's 1-1/2 horsepower motor generates suction at a rate of 1,250 cubic feet per minute, enough to effectively clear chips and dust from multiple machines connected individually or in a plumbed-in run. And with the included Y-fitting, which mounts to the 6" inlet on the machine and splits into two 4" ports, users can connect one line to machines and another to a 4" flexible hose and Dust Right® accessories for shop cleanup.
"Typically, dust collectors on the more powerful end of the range have a sizable footprint," said Steve Krohmer, Rockler's vice president for product development. "With the Dust Right® 1250, you don't lose any floor space, and you get dust collection that's powerful enough to handle just about anything a home or garage shop can throw at it."
The Dust Right® 1250 also comes with a radio-frequency remote that works from up to 25 feet away, allowing users to turn the machine on and off from anywhere in their shop. The unit has keyhole mounting slots spaced 16" on center for mounting to wall studs, and mounting hardware is included.
A fabric bag that filters out particles as small as 30 microns in size comes standard with the Dust Right® 1250. The bag features a clear plastic window so users can see when it's getting full, and a bottom zipper allows for easy emptying.
For greater dust filtration, Rockler also has introduced a dedicated Canister Filter for the 1250 CFM Wall-Mount Dust Collector. Its pleated filter captures particles down to 1 micron in size, and the steel frame incorporates a handle-operated agitator that knocks accumulated dust off the pleats into a clear collection bag.
The Dust Right® 1250 CFM Wall-Mount Dust Collector (54352) is priced at $529.99, and the Canister Filter (54818) is $299.99. Both can be purchased exclusively at http://www.rockler.com or at Rockler Woodworking and Hardware stores nationwide, as well as through the Rockler catalog. Images of the product can be found via this Dropbox link: https://www.dropbox.com/sh/llp2awu59yg84fj/AAA45c9iuQqa4qC3ZkcuYwyxa?dl=0
About Rockler Woodworking and Hardware
Celebrating its 65th anniversary as a family-run business, Rockler Woodworking and Hardware is the nation's premier supplier of specialty hardware, tools, lumber and other high-quality woodworking products. Rockler has 37 retail locations across 20 states – plus 60 independent reseller locations nationwide, as well as extensive catalog and internet operations.
To learn more about Rockler, please visit http://www.rockler.com or call 1-877-ROCKLER.