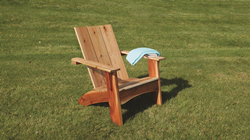 "Building outdoor furniture is the perfect way to make a deck, patio or yard truly your own. These two new projects offer great options, whether you're looking to build something more contemporary or prefer a more traditional style." —Scott Ekman, Rockler's vice president of marketing
MEDINA, Minn. (PRWEB) April 23, 2020
As warmer weather turns people's thoughts outside, Rockler Woodworking and Hardware has developed two new sets of templates and plans for build-your-own projects that add stylish seating to outdoor living spaces.
One of the projects — the Modern Adirondack Chair — is a sleek, contemporary take on an American classic, while the other — the English Garden Bench — maintains the graceful lines and old-world charm of its forebears. Both project kits include cardboard templates for parts with more challenging shapes, as well as illustrated step-by-step instructions with diagrams and materials lists. Users provide the exterior-grade lumber of their choice.
"Building outdoor furniture is the perfect way to make a deck, patio or yard truly your own," said Scott Ekman, Rockler's vice president of marketing. "These two new projects offer great options, whether you're looking to build something more contemporary or prefer a more traditional style."
The finished Modern Adirondack Chair (https://www.rockler.com/modern-adirondack-chair-templates-with-plan-and-stainless-steel-hardware-pack) measures 35-1/2" wide by 37" high by 34-1/2" deep and features wide armrests, a contoured seat and back and a clean, squared-off silhouette. It is the latest addition to Rockler's line of outdoor Adirondack furniture plans, which also includes a folding Adirondack chair, a classic Adirondack chair, a matching foot stool and end table, a bar-height chair and an Adirondack bench. Hardware packs are available for a number of the projects, including the Modern Adirondack Chair.
The finished English Garden Bench (https://www.rockler.com/english-garden-bench-templates-with-plan) measures 60" wide by 38-1/4" high by 26-1/2" deep and features sturdy legs, a contoured seat and decorative curves. In addition to the plans, Rockler has created a video documenting the entire building process, and it's available at https://www.youtube.com/watch?time_continue=2&v=6Zd0VPqGIY0&feature=emb_logo.
The Modern Adirondack Chair Templates with Plan (61139) and the English Garden Bench Templates with Plan (61885) are each priced at $24.99. Both are available for purchase exclusively online at http://www.rockler.com or at Rockler Woodworking and Hardware stores nationwide, as well as through the Rockler catalog. For store locations or a free catalog, visit http://www.rockler.com or call 1-877-ROCKLER.
About Rockler Woodworking and Hardware
Celebrating its 65th anniversary as a family-run business, Rockler Woodworking and Hardware is the nation's premier supplier of specialty hardware, tools, lumber and other high-quality woodworking products. Rockler has 37 retail locations across 20 states, as well as extensive catalog and internet operations.
To learn more about Rockler, please visit http://www.rockler.com or call 1-877-ROCKLER, and follow us on social media: