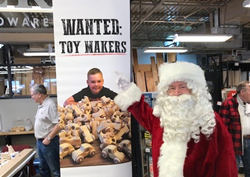 "There is really nothing like giving the gift of an experience where family and friends can discover and explore a new lifelong hobby together." -Scott Ekman, Rockler VP of Marketing
MEDINA, Minn. (PRWEB) December 16, 2019
An online survey conducted by Rockler Woodworking and Hardware discovered the secret to a perfect holiday: give the gift of an experience. Among 500 survey respondents, 61 percent said they would rather receive the gift of an experience than a store-bought item.
In line with this holiday wish, Rockler hosts several in-store, hands-on woodworking courses and workshops throughout the year to give people of all skill levels an opportunity to learn the craft. In January specifically, Rockler's courses include workshops where participants can make bowls, cheeseboards, pens, wine stops, rolling pins and much more. Find the full schedule of current courses to gift online at https://www.rockler.com/classes-workshops.
"There is really nothing like giving the gift of an experience where family and friends can discover and explore a new lifelong hobby together," said Scott Ekman, Rockler's vice president of marketing. "Our hands-on classes are a great way to participate in learning a new craft while spending time together through a fun and meaningful way."
The Rockler workshops are each guided by professionals with limited class sizes of three to eight people to ensure plenty of one-on-one help. Each class is approximately three hours long, and participants can sign-up online or in store.
In addition to the hands-on woodworking classes, Rockler offers holiday gift ideas through its online Handmade Gift Guide, which includes project outlines and the tools necessary to make items such as a mini wireless speaker, bar tools, gardening tools, cribbage boards and more. View all the kits and order online at http://www.rockler.com/handmade-gifts.
About Rockler Woodworking and Hardware
Celebrating its 65th anniversary as a family-run business, Rockler Woodworking and Hardware is the nation's premier supplier of specialty hardware, tools, lumber and other high-quality woodworking products. Rockler has 37 retail locations across 20 states, as well as extensive catalog and internet operations.
To learn more about Rockler, visit http://www.rockler.com or call 1-877-ROCKLER, and follow us on social media:
-Facebook: https://www.facebook.com/Rockler
-Instagram: https://www.instagram.com/rockler_woodworking/
-Twitter: https://twitter.com/Rockler
-YouTube: https://www.youtube.com/user/RocklerWoodworking
-Pinterest: https://www.pinterest.com/Rockler/