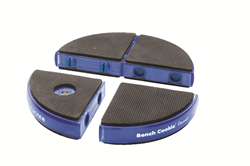 The Bench Cookie Connect's sections provide the utility of individual Bench Cookies plus the ability to combine them into one big monster Cookie when broader support is needed. - Dan Wenning, Director of Product Development
MEDINA, Minn. (PRWEB) October 21, 2020
Stirred by woodworkers' and DIYers' sustained appetite for its patented Bench Cookie® Work Grippers, Rockler Woodworking and Hardware has introduced an even bigger workshop treat: the Bench Cookie® Connect.
The latest addition to the extensive Bench Cookie line features the same high-friction rubber pads that made the original Bench Cookies so effective at holding and protecting workpieces for sawing, sanding or routing. But while the original measures just shy of 3" in diameter, the Bench Cookie Connect has four pie-shaped sections that click together to form a 7-1/8"-diameter disk. The large combined surface area provides increased stability for woodworking operations where individual supports might not be adequate.
"Bench Cookies have earned a spot in so many workshops because they grip the workpiece without limiting access to the sides and top," said Dan Wenning, Rockler's director of product development. "The Connect's sections provide the utility of individual Bench Cookies plus the ability to combine them into one big monster Cookie when a broader support is needed."
The sections of the Bench Cookie Connect are held together by integral snaps that keep them from shifting out of position during use but that also allow separation, enabling them to be used separately or linked in other configurations to suit the job at hand. For example, the 90° corners on the sections can be faced out when working on frames or other rectangles for better support and easier access, or the sections can be linked together in zigzag formations to provide continuous support to narrow workpieces.
Like Bench Cookie Plus Work Grippers, each section has a threaded insert for mounting accessories to lift the workpiece further for added clearance or to secure the section to a sawhorse. Additionally, the sections of the Bench Cookie Connect are the same thickness as original Bench Cookies, allowing all products to be used together.
The Rockler Bench Cookie Connect (59365) is priced at $19.99 and is available for purchase exclusively online at http://www.rockler.com or at Rockler Woodworking and Hardware stores nationwide, as well as through the Rockler catalog. For store locations or a free catalog, visit http://www.rockler.com or call 1-877-ROCKLER.
About Rockler Woodworking and Hardware
Celebrating its 66th anniversary as a family-run business, Rockler Woodworking and Hardware is the nation's premier supplier of specialty hardware, tools, lumber and other high-quality woodworking products. Rockler has 37 retail locations across 20 states, as well as extensive catalog and internet operations.
To learn more about Rockler, please visit http://www.rockler.com or call 1-877-ROCKLER, and follow us on social media: