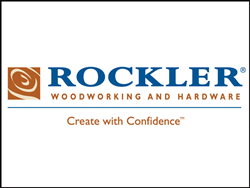 MEDINA, Minn. (PRWEB) October 30, 2020
Rockler Woodworking and Hardware has introduced new products to help woodworkers and DIYers organize and optimize their workspaces: the Rock-Steady Folding Steel Stand and an updated Pack Rack® clamp and tool organizer with a slate of new accessories.
With a 200-pound weight rating, the Rock-Steady Folding Steel Stand provides a rigid, heavy-duty base for full-size router tables or portable worktops. Heavy-gauge rectangular tube steel legs and steel cross supports help prevent racking, and reinforced plastic feet with non-slip pads on the bottom pivot to help ensure stability. What sets the stand apart, though, is that it folds to less than 3" deep for storage, making it ideal for small shops or tight garages where there's not space for a permanent router table or worktable.
The stand, which weighs 33-1/2 pounds without a top, opens and closes without needing to be lifted off the ground. With the stand tilted forward slightly, the rear legs swing back and lock in place with flip stops on both sides. The top lifts up, and a front support assembly swings up and engages a bracket mounted on the underside of the top. The connection is secured with two locking pins, which are attached to the top support with lanyards so that they won't get misplaced. To close the stand, the user reverses the process, and the locking pins are engaged in different holes to keep the stand closed for storage. A padded handhold makes transporting it easy.
The Rock-Steady Folding Steel Stand (54819) is designed for use with full-size Rockler router tabletops, Rockler's 20" x 26" T-Track table or any top up to 24" x 32" in size. When fully open, the stand has a footprint of 26'' wide x 22-1/2'' deep x 35-1/2'' high (not including top). It is priced at $129.99.
The new Pack Rack Plus clamp and tool storage unit is the same size as the original (24" x 31" x 58" high) and retains the features that made it so popular: an A-frame shape with heavy-gauge steel construction and eight tubular steel rods for holding an array of clamps. The swiveling polyurethane casters roll across uneven floors, and two of the casters lock.
But the updated design transforms the Pack Rack into a complete mobile shop-organization system by incorporating sets of predrilled mounting holes on the uprights for mounting the new accessories.
Among the accessories are three different sizes and types of trays: a 5"-deep tray for small- to medium-size items, an 8"-deep tray for larger items and small power tools and a tool tray with slots and holes that can hold screwdrivers, pliers and more. The mounting brackets' design allows the trays to be mounted level to the floor either outside or inside the Pack Rack frame.
A new bottom shelf made from extra-thick perforated steel enables users to take advantage of the space inside the Pack Rack to hold a shop vacuum or air compressor while also allowing dust to fall through to the floor.
A new set of three steel side panels drilled with the typical pegboard hole pattern provides added storage options on the A-shaped sides of the Pack Rack. The panels can be installed all on the same side or split up and mounted on either side. They accept common pegboard hooks and hardware, and because they're metal, they work with magnetic accessories, too.
There's also a new bracket for mounting the Dust Right® 650-CFM Wall-Mount Dust Collector inside the Pack Rack to create a mobile dust collection unit. The bracket incorporates a small shelf on the back to provide added storage and includes a pegboard hole pattern and two hooks for holding the hose and Dust Right 4" Quick Change Handle.
Finally, there's a redesigned Top Cap for holding glue bottles, safety glasses and other small items on top of the Pack Rack. Like the bottom shelf, it has a perforated bottom to prevent dust from piling up.
The Pack Rack and accessories are priced as follows:
53871 Pack Rack Plus - $199.99
54515 5" Tray - $19.99
50028 8" Tray - $24.99
53897 Tool Tray - $24.99
57673 Steel Pegboard Side Panels - $39.99
58463 Perforated Steel Bottom Shelf - $39.99
57354 Wall-Mount Dust Collector Bracket - $49.99
65042 Top Cap - $24.99
The Rockler Rock-Steady Folding Steel Stand and Pack Rack Plus and accessories are available for purchase exclusively online at http://www.rockler.com or at Rockler Woodworking and Hardware stores nationwide, as well as through the Rockler catalog. For store locations or a free catalog, visit http://www.rockler.com or call 1-877-ROCKLER.
About Rockler Woodworking and Hardware
Celebrating its 66th anniversary as a family-run business, Rockler Woodworking and Hardware is the nation's premier supplier of specialty hardware, tools, lumber and other high-quality woodworking products. Rockler has 37 retail locations across 20 states, as well as extensive catalog and internet operations.
To learn more about Rockler, please visit http://www.rockler.com or call 1-877-ROCKLER, and follow us on social media: