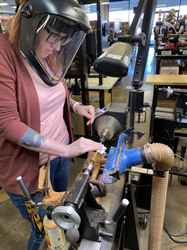 "We are grateful for all of the first-timers and returning woodworkers who participated in our classes who were able to make a beautiful pen while benefitting veterans."
MEDINA, Minn. (PRWEB) November 11, 2021
Family-owned Rockler Woodworking and Hardware, one of the nation's premier retailers of woodworking tools and supplies, celebrated and thanked veterans by donating more than $8,900 in proceeds from nearly 600 pen turning classes to Help Heal Veterans. The effort was Rockler's third year of supporting veterans through these special pen turning classes that were held across the company's 38 stores.
This year, Rockler selected Help Heal Veterans as the beneficiary of its Veterans Day pen turning classes. The organization provides free therapeutic craft kits to veterans to help recovering veterans improve their motor skills, while also helping them to strengthen feelings of fulfillment and self-worth.
"Woodworking is a creative and therapeutic activity, and we are honored to partner with Help Heal Vets to support their meaningful work that helps our nation's heroes," said Scott Ekman, VP of Marketing at Rockler. "We are grateful for all of the first-timers and returning woodworkers who participated in our classes who were able to make a beautiful pen while benefitting veterans."
About Rockler Woodworking and Hardware
Celebrating its 67th anniversary as a family-run business, Rockler Woodworking and Hardware is the nation's premier supplier of specialty hardware, tools, lumber and other high-quality woodworking products. Rockler has 38 retail locations across 21 states, as well as extensive catalog and internet operations.
To learn more about Rockler, please visit http://www.rockler.com or call 1-877-ROCKLER, and follow us on social media:

###