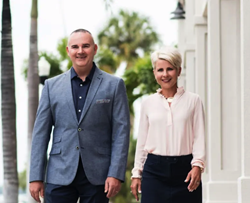 This new company will enable us to expand the reach of our superior service to even more clients
TAMPA, Fla. (PRWEB) December 14, 2022
Rocks Realty today announced its partnership with Side, the only real estate technology company that exclusively partners with high-performing agents, teams, and independent brokerages to transform them into market-leading boutique brands and businesses. The alliance will ensure that Rocks Realty, a company that delivers honest, authentic real estate services, is powered by the industry's most advanced platform.
Rocks Realty was founded by husband-and-wife duo Kevin and Annie Rocks. After launching their real estate careers in 2017, the two quickly made their mark in the competitive Florida housing market. With Kevin Rocks' military background and Annie Rocks' interior architecture and design background and customer-service experience, this pair has scored numerous industry awards. These accolades include ranking in the top 1% of agents in the U.S., becoming Top Selling New Home Agents in Starkey Ranch, and landing in the top 0.5% of agents at their previous brokerage. The Rocks' latest venture, Rocks Realty, serves buyers and sellers throughout the Tampa Bay area, Odessa, and the surrounding markets.
"It's always been our mission to go above and beyond for our clients, guiding them expertly throughout the process, encouraging their confidence, and building meaningful relationships designed to last," Annie Rocks said. "This new company will enable us to expand the reach of our superior service to even more clients."
Partnering with Side will ensure Rocks Realty remains on the cutting edge of the evolving real estate market while continuing to deliver premium services to its clients. Side works behind the scenes, supporting Rocks Realty with a one-of-a-kind brokerage platform that includes proprietary technology, transaction management, branding and marketing services, public relations, legal support, lead generation, vendor management, infrastructure solutions, and more. Additionally, Rocks Realty will join an exclusive group of Side partners, tapping into an expansive network from coast to coast.
"Side's state-of-the-art marketing, technology, administrative, and legal solutions provide us with the innovation we rely on and want more of," said Kevin Rocks. "That means we can streamline our processes and plan for the future more readily, which gives us even more time to dedicate to our clients."
About Rocks Realty
Rocks Realty is focused on facilitating real estate transactions that foster better futures for its clients and grow clients' wealth. Helmed by local experts who emphasize luxury at all price points, the team has a reputation for being honest and ethical, and its agents use their strategic, win-win negotiation skills for buyers and sellers alike. Headquartered at the intersection of Pasco, Hillsborough, and Pinellas counties, Rocks Realty serves clients throughout Greater Tampa. For more information, visit http://www.therocksrealty.com.