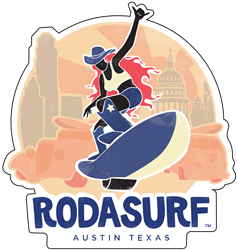 RodaSurf boards are an entirely new segment of boards: electric surfboards for the land.
AUSTIN, Texas (PRWEB) March 11, 2020
RodaSurf, a new startup located in Austin, Texas, plans to add 'surf's up' to Austin's always expanding lexicon. The company's first invention, the RodaSurf, will provide skateboarders and surfers the chance to start surfing Austin streets. In fact, with RodaSurf, the surf's always up.
RodaSurf is a new lifestyle brand that champions a "Surf Anywhere" attitude through electric surfing devices, merchandise, content and video games. The RodaSurf board is an accessory to the hugely popular Onewheel XR. Onewheel XR devices simply snap and lock into the RodaSurf's single piece, patent pending chassis and latching system. The patent pending asymmetrical design of the RodaSurf Boards makes Onewheel XRs safer to ride at higher speeds, turning nosedives into awesome nosegrind tricks!
RodaSurf (Roda is Portuguese for wheel or circle) will get its public debut on the streets of Austin March 14 - 21. During that week of March, people in Austin are encouraged to keep an eye out for RodaSurf riders who will be doing their best carving and cutbacks on Austin streets. And fans are encouraged to visit the RodaSurf website (http://www.rodasurf.com/) for information on RodaSurf's free St. Patrick's launch event on March 17 and to sign up for the newsletter.
"The skateboard market size is projected to be worth more than two-billion dollars by 2025," said RodaSurf's co-founder Starr Long, "with longboards and electric boards the fastest growing segments. RodaSurf Boards are an entirely new segment of boards: electric surfboards for the land. Skateboards were invented by surfers to recreate that surfing feeling on land, and now we are coming full circle by making an actual surfboard for the land."
"We wanted to give people the joy of surfing their neighborhoods with a street board that actually captures that unique feeling of riding waves," said RodaSurf inventor, the polemic artist Patrick Fagerberg. "This is just the beginning. We envision a line of merchandise, video games, content and much more. Our goal is to spotlight the Austin maverick spirit that folks like Stevie Ray Vaughan, Janis Joplin, Ann Richards, Michael Dell, Richard Garriott, Willie Nelson, Daniel Johnston and many other trailblazers have given to our hometown. If you want to surf anywhere, now you can."
RodaSurf is sponsoring a contest to celebrate that Austin spirit. Anyone who posts a picture or video to Instagram that epitomizes 'Keep Austin Weird' and/or shows the RodaSurf riders 'surfing' around Austin will be entered into a drawing to win a RodaSurf Board and a Onewheel XR (worth more than $3000)! To be eligible the posts must have the #rodasurfing or #rodasurf hashtag and be posted to Instagram by March 22 at midnight. Winners will be announced on March 31.
"Our plans were built around SXSW 2020 and we were greatly saddened to see that incredible yearly event get cancelled due to concerns about the COVID-19 virus," added Starr Long. "At this time we are moving ahead so that the local artists, makers, and servers who were part of our plans can stay on the wave. With that said, we are closely monitoring the situation and will update our website and Instagram if anything changes."
For a downloadable press kit with stills, logos and videos, please go to this link, http://bit.ly/RodaSurf.
About RodaSurf
RodaSurf, located in Austin, Texas, is a company focused on celebrating the maverick spirit of Austin, epitomized by the famous 'Keep Austin Weird' slogan. The company's first product is an entirely new segment of skateboards: electric surfboards for the street. The company founders have more than 50 years of product development experience, ranging from video games to lunar landing imaging. More information can be found at the company's website: http://www.rodasurf.com/ and Instagram: https://www.instagram.com/rodasurf/
All trademarks and copyrights contained herein are the properties of their respective holders.
Contact:
David Swofford
dswofford@conleyswoffordmedia.com
512 750-9098