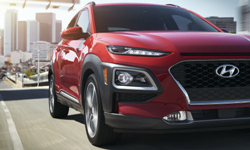 SURPRISE, Ariz. (PRWEB) September 18, 2020
Rodeo Hyundai is making purchasing a new vehicle a little easier for new and future college graduates with the Hyundai College Grad Program. As a part of this program the Surprise dealership provides the eligible graduates and students with a $400 bonus to put towards the purchase or lease of a new Hyundai vehicle.
Individuals who are graduating within the next six months or who have graduated within the past two years are able to qualify for this Hyundai bonus offer at Rodeo Hyundai. Qualifying persons must bring in a copy of their diploma or a letter from their school's registrar's office that proves their current status. Additionally, individuals must provide a proof of employment or an offer letter from their prospective employer.
Prospective shoppers can apply this $400 bonus towards any new Hyundai vehicle on the Rodeo Hyundai lot. The dealership currently holds more than 150 new Hyundai vehicles, including sedans, SUVs and crossovers. Current fan-favorites such as the Hyundai Kona, Hyundai Santa Fe, Hyundai Tucson and Hyundai Sonata are available now at Rodeo Hyundai.
Anyone can view the entire lineup of eligible new vehicles in the Rodeo Hyundai showroom by visiting the dealership's website, https://www.rodeohyundai.com/. Members of the Rodeo Hyundai staff are available by phone, 623-214-4100, to help with questions about the Hyundai College Grad Program eligibility or available inventory. The Hyundai dealership is located at 12925 N Autoshow Ave, Surprise, AZ 85388 and is open seven days a week. The Rodeo Hyundai sales department is open from 8 a.m. to 9 p.m. Monday through Friday, 8 a.m. to 8 p.m. on Saturdays and from 10 a.m. to 6 p.m. on Sundays.