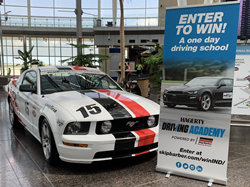 "Having the TrueVIS VG2 printer/cutters has made a huge difference when it comes to the quality and efficiency of our school's graphics production.."– Joe Monitto, Chief Revenue Officer - Skip Barber Racing School
IRVINE, Calif. (PRWEB) November 30, 2021
Since announcing its official partnership with Roland DGA back in May, Skip Barber Racing School, the premier racing and driving school in North America, has been running its new 64-inch Roland DG TrueVIS™ VG2 series printer/cutters virtually non-stop, producing everything from custom wraps for its fleet of 75 racing and instructional cars to personalized decals for program graduates to signs and banners for its promotional events.
The Skip Barber Racing School, which has been in operation for nearly 50 years, has trained over 350,000 people at the continent's top circuits. Notable graduates include Formula 1 and IndyCar star Juan Pablo Montoya, Josef Newgarden, Ryan Hunter-Reay, and Jeff Gordon. In addition to the racing school, Skip Barber operates corporate events and driving schools as well as "arrive-and-drive" race series and racing teams, all of which require vibrant, digitally printed graphics.
"We just finished our 50th full wrap since receiving our new inkjets, and we've created countless stickers and decals for our other fleet cars and support vehicles," said Joe Monitto, Skip Barber Racing School's Chief Revenue Officer. "Having the TrueVIS VG2 printer/cutters has made a huge difference when it comes to the quality and efficiency of our school's graphics production. We have been able to print everything we need quickly and easily in-house instead of outsourcing, saving us a significant amount of time and money," Monitto added. "The image quality is amazing, plus the super-fast setup, integrated contour cutting, and quick-drying TR2 inks have allowed us to cut our concept-to-production time in half."
Monitto is also impressed with the VG2's versatility and color accuracy. "Whether we're using our inkjets to produce vehicle wraps, signage, or die-cut stickers for our students, we can expect the same vivid, detailed graphic results, he noted. "Additionally, the wide-gamut inks and outstanding color-matching capabilities make it very easy to hit specific brand colors."
The Skip Barber Racing School has a staff of three full-time employees dedicated to the design, production, and installation of all graphics for the fleet and support vehicles, as well as any promotional signage and materials needed. To date, the graphics team has been operating out of Skip Barber Racing's current headquarters in Long Island, New York, however, they are in the process of relocating to a new facility at Virginia International Raceway in Alton, Virginia which will also serve as the new headquarters for the racing school and race team.
The school's fleet is comprised of several different types of vehicles, including S197 Mustang GT cars (used for the Racing School programs), Mygale Formula 4 cars (used for the Formula Car Racing School and driven in the Formula Race Series), Honda HPD Civic Type R and Si TCA cars (driven in the SRO Motorsports TC America race series), ROUSH Performance Stage 3 Mustangs (used in the ROUSH Performance Intro to Racing program), and Toyota Supra models (used for the Racing School and as pace cars).
Monitto pointed out that the Skip Barber Racing School graphics team is busy year-round – printing and installing wraps for newly acquired cars and refreshing the graphics for existing fleet vehicles. "Along with the school fleets, we have tractor trailers used by our equipment transport and branding development support teams that receive either full or partial wraps, depending upon our specific needs," he noted. "In all, I'd say about 75 percent of our printer utilization involves vehicle wraps, with the remaining usage devoted to signage, banners, graduate stickers, and custom decals for special events."
"We are delighted with our partnership with Roland DGA," said Monitto. "With their state-of-the-art printer/cutters on-site, we're able to control the quality of our graphics and the entire production process. It's a big win for our entire team."
To learn more about Roland DGA Corporation, or the complete Roland DGA product line, visit https://www.rolanddga.com. For more information on the Skip Barber Racing School, visit https://www.skipbarber.com.
About Roland DGA Corporation
Roland DGA Corporation serves North and South America as the marketing, sales, distribution and service arm for Roland DG Corporation. Founded in 1981 and listed on the Tokyo Stock Exchange, Roland DG of Hamamatsu, Japan is a worldwide leader in wide-format inkjet printers for the sign, apparel, textile, personalization and vehicle graphics markets; engravers for awards, giftware and ADA signage; photo impact printers for direct part marking; and 3D printers and CNC milling machines for the dental CAD/CAM, rapid prototyping, part manufacturing and medical industries.
About the Skip Barber Racing School
Since 1975, Skip Barber has operated a fully integrated system of racing schools, driving schools, racing championships, corporate events and special projects across North America. No other organization delivers such a combination of high quality instruction, equipment, facilities and memorable experiences. In addition to the Skip Barber Racing School and the Skip Barber Driving School, the company owns and operates prestigious open-wheel, equal-car racing championships, and race teams throughout motorsports. Its Corporate Events division creates and conducts customer programs utilizing any or all Skip Barber assets, from Roush Stage 3 Mustangs to Formula Skip Barber race cars. The innovative OEM Group serves the automotive industry with a variety of unique, specialized skills.