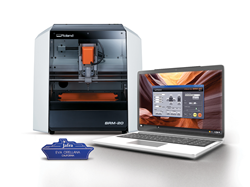 "This innovative kit turns the SRM-20 mill into a highly capable device for engraving plastic, wood, foam, acrylic, ABS, PC boards, and more," – Garrett Smawley, 3D and Education Technical Sales Manager - Roland DGA
IRVINE, Calif. (PRWEB) June 30, 2022
Roland DGA Corporation has announced the availability of a new Engraving Accessory Kit for its SRM-20 compact milling machine that enables this subtractive 3D mill to engrave a wide variety of substrates and objects with ease. The Engraving Accessory Kit essentially transforms the SRM-20 into a rotary engraving and diamond-scribing device that's ideal for creating everything from plastic signs and awards to personalized gifts and custom circuit boards..
The new Engraving Accessory Kit makes the SRM-20 perfect for engraving in any home, office, or classroom. The kit can be added to an existing SRM-20 mill, or purchased together with a new SRM-20 to begin engraving right out of the box. Set-up is a breeze, and the included software and accessories makes getting started simple.
With its powerful spindle motor, independent collet system, touch-button VPanel controller, and other advanced features, the SRM-20 desktop mill is engineered for optimum efficiency, productivity, and ease of use. The optional Engraving Accessory Kit expands the capabilities of the SRM-20 even further to include engraving applications and materials. The kit includes CAD 2D software, diamond-drag tooling for metal scribing, V-bit tooling for rotary engraving, 1/4-inch and 1/8-inch collets, bed offset hardware, an indexing feature, a centering vice, and AS-10 adhesive hold-down sheets.
"This innovative kit turns the SRM-20 mill into a highly capable device for engraving plastic, wood, foam, acrylic, ABS, PC boards, and more," said Roland DGA's 3D and Education Technical Sales Manager, Garrett Smawley. "It increases the versatility of the SRM-20 significantly, allowing users to mill or engrave from the comfort of their school, home, or office desktop environment."
State-of-the-art technology optimizes the SRM-20's functionality and ease of use for both milling and engraving. A touch-button VPanel controller regulates feed rate, spindle speed, and milling on X-Y-Z axes, while an independent collet system allows for faster setting of the Z-axis base point and quick tool changes. Additional features include airtight sealing technology to prevent waste material from getting inside the spindle and Y axis, a fully enclosed cabinet that reduces dust and noise, and an intelligent safety interlock that automatically pauses the machine when the cover is opened.
To learn more about the SRM-20 desktop mill/engraver, or the new Engraving Accessory Kit for this device, visit https://www.rolanddga.com/srm-engraver. For more information on Roland DGA Corporation, or the complete Roland DGA product line, visit https://www.rolanddga.com.
About Roland DGA Corporation
Roland DGA Corporation serves North and South America as the marketing, sales, distribution and service arm for Roland DG Corporation. Founded in 1981 and listed on the Tokyo Stock Exchange, Roland DG of Hamamatsu, Japan is a worldwide leader in wide-format inkjet printers for the sign, apparel, textile, personalization and vehicle graphics markets; engravers for awards, giftware and ADA signage; photo impact printers for direct part marking; and 3D printers and CNC milling machines for the dental CAD/CAM, rapid prototyping, part manufacturing and medical industries.