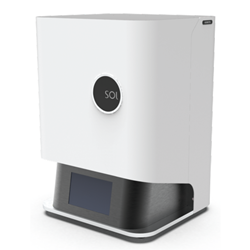 "By integrating a SOL LCD 3D printer into their workflows, businesses don't need to outsource – they can maintain full control and provide quality same-day applications with reduced turnaround time." – Lisa Aguirre, Roland DGA Dental Solutions Product Manager
IRVINE, Calif. (PRWEB) June 29, 2021
Roland DGA's DGSHAPE Americas dental business group has announced the addition of the SOL LCD 3D Printer to its line of DGSHAPE dental products and accessories. Roland DGA has partnered with another industry leader to offer this sleek, compact 3D printer, which incorporates new and innovative technologies to deliver increased speed, accuracy, and cost-effectiveness. Equipped with a SOL LCD 3D printer, businesses can produce dental models, provisional crowns and bridges, occlusal guards, surgical guides, and more in-house quickly and easily.
The SOL LCD 3D printer prints at three times the speed of standard SLA printers and has five times the UV power of previous models to match or exceed that of DLP printers. Featuring the precision of 49-micron pixels and the capability to print at 4.5 cm per hour, it provides a smooth surface finish with predictable and accurate printing over the entire 128 x 80 x 140 mm build plate.
With its simple platform and intuitive software, the SOL LCD 3D Printer is ideal for both novices and experienced users. A user-friendly workflow and zero calibration requirements make the SOL ready to use right out of the box. It's also designed for unsurpassed reliability and durability as well as easy maintenance. A host of noteworthy features, including touch-screen operation, a fail-safe vat frame, vat standoffs for longer vat film life, a swivel-hinged UV filter hood, and an easy-to-remove build plate, help optimize efficiency, convenience, and overall performance.
"We are excited about offering this cutting-edge, easy-to-use 3D printer to our customers," said Lisa Aguirre, Roland DGA's dental solutions product manager. "It's a complete, state-of-the-art solution, and the perfect complement to our advanced family of DWX milling machines. By integrating a SOL LCD 3D printer into their workflows, businesses don't need to outsource – they can maintain full control and provide quality same-day applications with reduced turnaround time."
The SOL LCD 3D printer's bundled AI software includes more than 100 pre-calibrated resin profiles for simple setup, instant access to resin and firmware updates, and accurate, repeatable results. The SOL also comes with a Dual-Tank Utrasonic Cleaning Unit, a UV Curing Kit (approved for CLII restorations), a Resin Sample Kit with model, temp and splint materials, a spare vat tray, and a Wi-Fi dongle.
To learn more about the new SOL LCD 3D printer, visit https://www.rolanddga.com/sol-3d. For more information on the complete DGSHAPE dental product line, visit https://www.rolanddga.com/dental.
About Roland DGA Corporation and DGSHAPE Americas
Roland DGA Corporation serves North and South America as the marketing, sales, distribution and service arm for Roland DG Corporation and its subsidiary, DGSHAPE. Founded in 1981 and listed on the Tokyo Stock Exchange, Roland DG of Hamamatsu, Japan is a worldwide leader in wide-format inkjet printers, engravers, photo impact printers and CNC milling machines. DGSHAPE Americas is the Roland DGA dental business group dedicated to the DGSHAPE line of products, most notable as a market leader in dental milling machines. To learn more about Roland DGA Corporation and DGSHAPE Americas, visit https://www.rolanddga.com/dental.
About DGSHAPE Corporation
DGSHAPE Corporation designs and manufactures hardware and software solutions for entrepreneurs who want to fulfill their dreams of creating something new to "Shape the Future." We cater to multiple industries, including medical, manufacturing and retail. We help innovators unlock their dreams by removing barriers to creation through intuitive technology that simplifies the user experience, including interface, software and maintenance, multi-axis rotary milling technologies, and Internet of Things (IoT) analytical platforms. Everything we do is motivated by creating tools to "Make Innovation and Make Life Better." To learn more about DGSHAPE Corporation, visit https://www.dgshape.com.