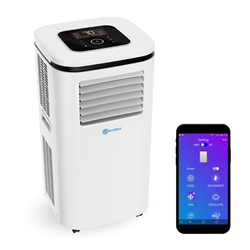 Smart home climate control has made managing cost—and comfort—easier than ever. And RolliCool is making that technology affordable and accessible regardless of how old, big, or small your home or apartment is.
SOUTH BEND, Ind. (PRWEB) June 11, 2020
RolliBot, established experts in home automation, announces its updated 2020 RolliCool line of Alexa-enabled 'smart' portable air conditioners to fit a variety of lifestyles: 100H-20, 208-20, 310-20. The three models – ranging in cooling capacity from 10,000 to 14,000 BTU – continue to be one of the only brand-name Alexa-compatible portable A/C units available. The Wi-Fi-enabled units respond to voice commands after pairing with your Alexa device (sold separately) and a user-friendly, full-featured iOS/Android-compatible app allows full control over the units.
The new 2020 models feature three comfort modes – cooling, dehumidifying and fan – as well as an integrated timer. The top-mounted LED control display has been redesigned with an elegant, intuitive menu that allows for complete control over the units. At the highest setting, all Rollicool A/C units operate at a noise level of approximately 55dB, about as loud as a casual conversation. Four 360-degree caster wheels allow for exceptional portability, letting you cool only the rooms you need to cool and control your energy costs.
While paired with an Alexa device (Amazon Echo, Echo Dot, or similar) you can ask Alexa to power your RolliCool on or off, switch comfort modes, and adjust temperature settings. Not home? No problem. Once connected to your home Wi-Fi and paired with your Alexa device, you can control your RolliCool from anywhere in the world.
The RolliCool line aims to make smart-home climate automation an affordable option, incorporating many of the features of more expensive central cooling systems, but in a streamlined, portable design. All RolliCool models use eco-friendly R410-A coolant.
14,000 BTU Cooling Capacity
Voice Control with Alexa
iOS/Android App
700 sq. ft. (65 m²) Coverage Area
Three Comfort Modes + Timer
Dehumidifier, up to 70 liters per day
Fan-Only (Oscillating)
LED Digital Display
Whisper Quiet (55db max)
Washable Filters
Eco-Friendly Coolant
Available at RolliBot.com and on Amazon
Current Price: $419.99 (MSRP: $466.00)
12,000 BTU Cooling Capacity
Voice Control with Alexa
iOS/Android App
600 sq. ft. (55.7 m²) Coverage Area
Three Comfort Modes + Timer
Dehumidifier, up to 60 liters per day
Fan-Only (Oscillating)
LED Digital Display
Quiet Operation (55db max)
Washable Filters
Eco-Friendly Coolant
Available at RolliBot.com and on Amazon
Current Price: $369.99 (MSRP: $422.00)
10,000 BTU Cooling Capacity
Voice Control with Alexa
iOS/Android App
450 sq. ft. (41.8 m²) Coverage Area
Three Comfort Modes + Timer
Dehumidifier, up to 40 liters per day
Fan-Only (Oscillating)
LED Digital Display
Quiet Operation (55db max)
Washable Filter
Eco-Friendly Coolant
Available at RolliBot.com and on Amazon
Current Price: $319.99 (MSRP: $334.99)
ABOUT ROLLIBOT®
We are RolliBot. We want to make your home work for you so you can sit back and relax. We believe that home automation should be simple and easy to use, so we are designing the home automation products that simplify your days so you can enjoy the finer things in life. Learn more at RolliBot.com