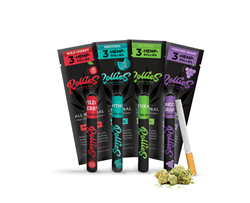 The hemp we use in Rollies is cured properly to maintain superior quality for both CBD and terpenes
SALAMANCA, N.Y. (PRWEB) November 12, 2020
The Rollies brand of 100% all-natural hemp pre-rolls has added three new flavors to its product offering: Wild Cherry, Concord Grape and Menthol, providing customers with more choices of high CBD, premium hemp flower smokables.
"The hemp we use in Rollies is cured properly to maintain superior quality for both CBD and terpenes," said Tony Nasca, Rollies Business Development Manager. "Our hemp is Farm Bill compliant which means it contains less than .3% Total THC. Rollies won't get you high, but they will allow consumers to enjoy the known benefits of a CBD product." Inhalation is a popular choice among CDB users as it takes affect faster than other delivery methods and can be quickly adjusted to a therapeutic level.
The development of Wild Cherry, Concord Grape and Menthol varieties was driven by consumer desire for flavorful, pure hemp pre-rolls that are high quality and free from fillers and other byproducts. For customer and retailer convenience, Wild Cherry, Concord Grape, Menthol, as well as original Natural Rollies, are available in single and 3-pack units. Wild Cherry and Natural also come in a standard 20 pack and cartons.
Rollies are available for immediate purchase on-line and are being offered nationwide to wholesalers and retailers.
Red House Manufacturing, the company responsible for producing Rollies, is also a private label manufacturer of high-quality hemp "straight pre-rolls" (also called hempettes, hemp cigarettes, or hemp sticks) that works only with US Farm Bill Compliant hemp and suppliers.
###
For more information, press only:
Tony Nasca
Office: 888-521-3811
Cell: 716-597-9393
Email: info@redhousemanufacturing.com
For more information on 100% all-natural high CBD hemp smokables:
https://rollieshemp.com/
For more information on Red House Manufacturing:
https://redhousemanufacturing.com/