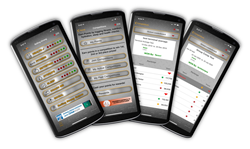 "Transportation operations compete for freight and drivers every day so competing for health will be a fun challenge for them"
RIVERSIDE, Mo. (PRWEB) February 26, 2020
Rolling Strong, the provider of health and wellness programs for transportation companies and their drivers, as well as owner-operators, today announced that its app now has the ability for terminal vs. terminal, company vs. company and industry-wide competitions.
"Transportation operations compete for freight and drivers every day so competing for health will be a fun challenge for them" said Stephen Kane, president of Rolling Strong. "With the new capability to set up terminal vs. terminal, company vs. company and industry-wide competitions in the Rolling Strong app, successfully building a culture of wellness has never been easier. Expanding efforts to improve health and wellness beyond driver and employee competitions improves everyone's health across the industry."
Rolling Strong's new capabilities allow senior leadership and management staff to enable health and wellness improvement initiatives by fostering competition between teams, facilities and other transportation companies. The new capabilities of the Rolling Strong app also make it possible for industry organizations to promote health and wellness through competitions.
Several associations have expressed interest in this opportunity and are looking for industry suppliers to sponsor awards, Kane noted. Rolling Strong is also ready to support those efforts by promoting competitions through the app, emails and social media, and by providing trophies or even hosting awards events.
In the competitions, participants earn prizes for signing up for the Rolling Strong app, getting wellness checks, speaking to wellness coaches who can provide mobile or live support through the platform, and by taking steps to improve nutrition, fitness, sleep, and stress and weight management. Winners are determined by averaging the points earned by all terminal, department or company participants without impacting a driver's or an employee's individual ranking in the app.
"We've been realizing steady adoption of our health and wellness mobile app among drivers and other trucking company personnel," Kane added. "Adding this new fun element of group competitions is going to help facilitate even more growth. Prevention is the key to wellness for everyone and we intend to be an active partner and work to help improve health across the transportation industry."
About Rolling Strong
The provider of driver wellness programs for transportation companies and their drivers and owner-operators, Rolling Strong promotes behavior change and provides support in the areas of Nutrition, Fitness, Sleep, Stress Management and Weight Management. Driven by its mission to reverse the declining health of America's CDL Drivers and get them home safely, the company offers in-terminal and on-the-road solutions that target health improvement. Its customizable programs include the Rolling Strong App for drivers and administrative reporting capabilities to help carriers and drivers improve compliance with CDL medical requirements and to implement and manage their wellness initiatives. For more information, visit http://www.rollingstrong.com.