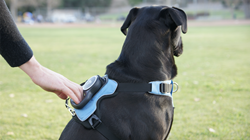 "Before, there was no way to smoothly transition your dog from on-leash to off-leash and vice versa. With the Rollo Harness, dog owners no longer have to carry a leash when they're in a safe, off-leash area. The lightweight handle clips on to the top of the harness, quickly and efficiently."
LOS ANGELES (PRWEB) October 01, 2018
As today's society continues to adopt pet-friendly laws, owners and their dogs are spending more and more time in public places — whether it's a park, a local brewery, or the office, pets are becoming increasingly welcome. To seamlessly transition a dog from on-leash to off-leash with minimal effort, Rollo Pet Company introduces Rollo Pet Harness. Today, the integrated, one-piece, retractable leash and harness system launches on Kickstarter with hopes of raising $35,000 to help dog owners worldwide.
The leash system offers pets and pet owners a new-found freedom. Pet owners no longer have to carry a leash with them as the leash handle conveniently attaches to the pet's harness for easy access. The retractable leash extends up to 5 feet and can be locked in at any desired length. The designated area on the back of the dog harness keeps the leash out of the way during playtime, while remaining easily accessible for on-leash activities. Pet owners can instantly pop the handle out to use the leash, and pop it back in when it's time for the dog to roam freely. The leash mechanism incorporates a unique, clutch-type locking mechanism with high-strength distributed locking forces.
"We're excited to bring dog owners the convenient, efficient solution they've been looking for," said Sid Fohrman, co-founder of Rollo Pet Harness. "Before, there was no way to smoothly transition your dog from on-leash to off-leash and vice versa. With the Rollo Harness, dog owners no longer have to carry a leash when they're in a safe, off-leash area. The lightweight handle clips on to the top of the harness, quickly and efficiently."
The harness is made from rugged, high-grade, waterproof materials that are extremely lightweight. The sleek and high-tech design of Rollo Pet Harness is both durable and stylish. The Rollo Pet Harness is available in three sizes: small, medium and large, and three colors: process blue, cool grey and flame orange.
"We feel we've turned the existing leash and collar experience on its head," said co-founder Tony Lord. "After extensive prototyping, we were able to come up with a system that is truly revolutionary and creates a new category in the pet-goods sector. We're so excited to share it with dog owners everywhere."
For pricing, additional information, and to back the campaign, please visit Rollo Pet Harness at http://pr.go2.fund/rollo.
About Rollo Pet Harness
The founders of Rollo Pet Harness know that dog owners want what's best for their four-legged best friend. Life with pets doesn't have to be complicated. The team behind Rollo Pet Harness believes their product will help make dog owners lives easier by solving three problems that affect their experience when taking pets in public: it takes time to transition dogs from on-leash to off-leash, once the dog is off-leash the pet owners have to keep up with the leash, and it requires multiple accessories to leash and harness your pet. The founders proudly created a dog harness that owners and their dogs will both love. For more information, please visit producthype.co/rollo.