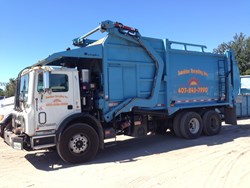 These new trucks will enable us to offer more benefits to our customers. We're able to provide multiple hauls each day.
Orlando, FL (PRWEB) January 16, 2014
Orlando roll-off dumpster rental company Sunshine Recycling purchased two new trucks in January 2014. The trucks will transport various sizes of roll-off dumpsters that are used both residentially and commercially for construction, demolition and large cleaning projects.
Sunshine Recycling of Orlando operates trucks that service both front-load dumpsters and roll-off containers. Front-load dumpsters require a smaller footprint, can be loaded from the front and sides, feature a lid and are commonly found behind small businesses, restaurants and schools. This type of dumpster requires front loader garbage trucks that can pick up and empty dumpsters.
Roll-off containers are used for demolition and construction projects, and smaller sizes are available for residential use for home cleaning or remodeling. They require a longer, rectangular footprint and are open at the top. These containers are hauled on trucks formatted with a flatbed that tilts for loading and unloading. The new trucks are upgrades to older models that were purchased and added to the fleet in 2007.
The new trucks are outfitted with automatic transmissions. The additions will allow Sunshine Recycling to provide faster service to more clients.
"Adding these new trucks to our crew enables us to offer more benefits to our customers," said Chuck Herb, owner of Sunshine Recycling. "We can expand our services and, as always, we're able to provide multiple collections and haul several loads each day which allows our clients to continue working on large jobs without sacrificing time waiting on a new empty dumpster."
Sunshine Recycling Inc. of Orlando is a dumpster rental company servicing central Florida. Offering various sizes of dumpsters including front-load, roll-off and full-size construction dumpsters, Sunshine Recycling also provides recyclable, waste and construction debris collection and hauling services and trash compactors. The company is a proud member of the U.S. Green Building Council and is LEED AP certified. For more information about Sunshine Recycling's services, please visit http://www.orlando-dumpsters.com/services/.