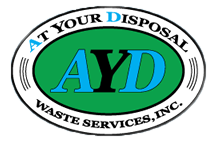 We are excited to be contributing to the development of these growing cities
Austin, TX (PRWEB) November 21, 2014
Roll-off dumpster provider At Your Disposal Waste Services, Inc. is currently supplying recycling and hauling services for three upcoming apartment developments just south of Austin, Texas. Two of these properties will be located in Kyle and one will be located in Buda.
The growing city of Kyle offers a wide range of outdoor activities, including four local parks, various biking and nature trails and a lake with an abundance of fishing opportunities. The town of Buda is home to a historic downtown shopping district, providing traditional and unique experiences. All three of the luxury apartment communities will house more than 300 units.
Local Austin, Texas company, Skybeck Construction is the full service contractor and construction management firm that is currently building both properties located in the Kyle area. These include, "Trails at Plum Creek" and "The Strand Apartments." Skybeck has managed numerous multi-million dollar construction projects throughout Texas and beyond. AYD is assisting in both projects by using their waste management expertise to ensure all debris is recycled and hauled correctly. They are providing two 40 yard dumpsters to the Trails at Plum Creek and one 40 yard dumpster to the Strand Apartments, with many more expected.
The Carrington Oaks apartments are currently under construction in Buda, which is just four miles north of Kyle. This community is being built by local Austin company, Journeyman Construction, Inc.. Journeyman has a strong commitment to sustainability and environmental awareness. They provide LEED training to all project management employees and field staff. AYD is providing two 40 yard dumpsters and a 20 yard dumpster to this project, with many more expected.
Chuck Herb, Owner of At Your Disposal Waste Services, Inc., stated, "We are excited to be contributing to the development of these growing cities, and are committed to keeping them clean and green with the most advanced recycling and waste management practices."
About At Your Disposal (AYD) Waste Services, Inc.:
At Your Disposal (AYD) Waste Services, Inc. provides recycling and refuse hauling to the greater Austin, TX area. The company offers roll-off dumpster rental, waste disposal services, compactor rentals, construction debris removal, and hauling of recyclables, junk and more. AYD offers same-day service. Committed to protecting the environment, AYD is a LEED-certified waste collection company and participates in the Texas Environmental Quality Initiatives Program as well as local community beautification projects. To learn more about AYD and the services offered, please visit http://www.aydwaste.com.