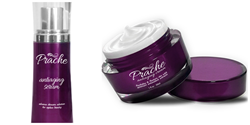 Prache Antiaging Cream and Prache Antiaging Serum are among the most advanced antiaging skincare solutions available without a prescription
(PRWEB) August 16, 2017
Rollon Skin Care Ltd., one of the world's leading manufacturers and marketers of high-quality anti-aging skincare solutions, recently announced the launch of two new skincare products, Prache Antiaging Cream and Prache Antiaging Serum. These new products are an affordable, yet effective alternative to expensive plastic surgery or in-patient cosmetic dermatological procedures.
"Prache Antiaging Cream and Prache Antiaging Serum are among the most advanced antiaging skincare solutions available without a prescription," explains Thomas David, Vice President of Marketing for Rollon Skin Care Ltd., "these products are the culmination of years of in-depth research and rigorous testing and we have heard from many of the people who are using these products and the results described are nothing short of amazing."
Prache Antiaging Cream is a lightweight, fast-absorbing cream providing the hydrating benefits of a moisturizer with the power of an anti-aging concentrate. Anogeissus Leiocarpa Bark Extract and Vitamin C work synergistically to increase the incorporation of Vitamin C in the skin, significantly boosting antioxidant capability and collagen synthesis. Prache Antiaging Cream contains powerful, bioavailable peptides rebuild and restore skin from the inside out to lift, fill, and smooth out wrinkles and a probiotic to speed skin renewal and turnover while tomato-derived carotenoids fight UV damage and lighten skin. Sandalwood and Barley Extract reduce water loss and stimulates lipids found naturally in skin. Prache Antiaging Cream addresses signs of aging caused by UV damage, glycation, gravity, and dryness.
Prache Antiaging Serum is a lightweight, fast absorbing anti-aging cream features auto-adapting technology to provide the ultimate comfort and protection in all climates. A marine-based neuro-soother addresses one of the root causes of aging and wrinkles -- inflammation. Prache Antiaging Serum fights inflammation by soothing irritated skin and reducing skin sensitivity. Probiotics restores skin's self-renewal to increase skin thickness, reduce moisture loss, and boost skin immunity. Prache Antiaging Serum counteracts photoaging with soybean seed extract and olive fruit revealing an increase in skin smoothness, firmness, hydration, and elasticity while decreasing wrinkle depth. Anogeissus Leiocarpa Bark Extract increases the incorporation of Vitamin C in the skin, significantly boosting antioxidant capability and collagen synthesis. Prache Antiaging Serum is formulated with snow algae powder to protect skin on a cellular level by fighting oxidative stress, detoxifying, and repairing. Snow algae, found in semi-permanent to permanent snow or ice in the alpine or polar regions of the world, activates longevity factors to extend the youthfulness of skin.
The eternal quest for looking younger has meant big business for dermatologists and surgeons around the world. According to a recent report by The International Society of Aesthetic Plastic Surgery (ISAPS), the top five countries – USA, Brazil, Japan, Italy and Mexico – account for 41.4% of the world's cosmetic procedures, followed by Russia, India, Turkey, Germany and France. Women continue to drive the demand for cosmetic procedures, accounting for 86.2%, or 20,362,655 cosmetic procedures worldwide. The most popular non-surgical procedures continue to be injectables with Botulinum Toxin (Botox) ranking at number one at 4,627,752 procedures (a 7% increase over the past 12 months).
Advancements in science and technology are helping individuals look younger and live longer than ever before, not only through invasive surgical procedures like a facelift, which require significant recovery time and involves risks commonly associated with surgery, but also through rediscovering many of the healing and restorative properties found in nature.
"Scientific research has conclusively shown a combination of essential antioxidants and moisturizers can have a tremendous effect on skin," explains David, "the results are incredible. What was once only achievable by expensive plastic surgery or other costly dermatological procedures is now available through Rollon Skin Care as revolutionary new antiaging skincare products you can easily order online from the comfort and convenience of your home."
About Rollon Skin Care Ltd.
Rollon Skin Care Ltd. is one of the world's leading manufacturers and marketers of high-quality anti-aging skincare. To learn more about Rollon Skin Care Ltd., visit: https://www.rollonskincareltd.com/ or https://www.pracheskin.com/