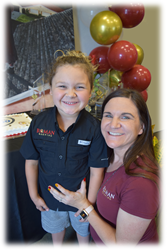 The Roman family humbly accepts GAF's recognition of our unique craftsmanship and we are proud to be a repeat honoree on this year's Inc. 5000 list
CAPE CORAL, Fla. (PRWEB) September 04, 2020
For the second consecutive year, Roman Roofing, Inc. of Cape Coral, Florida, has earned its position on Inc. Magazine's annual list of America's 5,000 fastest-growing private companies, following a handful of accolades bestowed upon the firm by GAF, the leading roofing manufacturer in North America. Inc. Magazine unveiled this year's list of the nation's fastest growing privately held companies.
"Congratulations to Roman Roofing on being named to the Inc. 5000 list of the fastest growing companies in the U.S. and for the second consecutive year!" stated Jerry Orlando, Vice President of Steep Slope Sales, Southeast at GAF, North America's largest roofing and waterproofing manufacturer. "As a GAF Certified Master Elite and President's Club member, Roman Roofing represents the top one or two percent of roofing contractors nationwide. Their achievement comes on the heels of GAF announcing Roman Roofing being named the recipient of our President's Club, Triple Excellence and Premium Systems Professional award".
Launched by Norm and Lindsey Dopfer in 2015 and named after their eldest son, "Roman" has proven to be anything but your typical roofing contractor. Florida's fastest growing contractor last year, this firm's unorthodox approach to the perfection of its craft is a direct reflection of the couple's "always be enhancing" attitude. This power couple first crossed paths in Southwest Florida some 13 years ago when Lindsey was teaching at Cape Coral High School and Norm was just cutting his teeth in the roofing sector.
The "family owned and operated" practice is not just words – Roman's production team is known as 'Hetherington Productions' and is headed by Mike Hetherington, who touts more years of roofing experience than anyone in the organization. In addition to assisting the Dopfers open the doors, his department – the largest by far on the firm's org chart – includes two of his ten children. "This firm has been about family since its founding" commented Mike Hetherington. Mike, a native of the Cape Coral area, shares the common philosophy of 'customer excellence' and his team is constantly praised in the firm's online reviews.
One unique characteristic that rings true within the firm is the concept of charity and community – both locally and in their native Ohio. Since finding success, Roman Roofing has consistently sponsored numerous youth and high school athletic teams, along with multiple MMA fighters, musicians, arm wrestlers as well as boxers. Last year, the Dopfers' directed a roofing crew 1,500 miles north to northwest Ohio to handle several pro-bono roofing projects for military veterans, friends and friends of friends with leaky roofs and little means. However, their do-good attitude does not always fly under the radar.
In early February while exiting Publix with a bag of ice, Norm was approached by a group of boys raising money for Gulf Coast Lightning, a local travelling baseball team. With phone in hand and a bag of ice in the other, Norm managed to give the boys a handsome donation. Later that day, the team boasted about Roman Roofing's donation on social media – but one of the untold examples of the couples' generosity. "Lindsey and I come from separate small towns with middle-class, blue-collar families. Due to our Midwestern upbringing and value system, we feel compelled to and take great pride in working together to support our communities in Florida and Ohio" stated Norm Dopfer.
No small wonder the firm's fastest growing division is solar. A GAF-certified solar specialist, early this year, Roman Roofing introduced the newest line of GAF Energy products into its product offering. "Our solar division continues to mature as we place a sharp emphasis on educating homeowners on how our direct-to-deck solar panel will help pay for the roof" explained Norm Dopfer. "Our solar consultants provide a no-cost, energy efficiency analysis in a simple-to-understand format for interested homeowners". To accommodate the firms past and future growth, Roman Roofing is presently transitioning to a modernized, turnkey facility.
"The Roman family humbly accepts GAF's recognition of our unique craftsmanship and we are proud to be a repeat honoree on this year's Inc. 5000 list" stated Lindsey Dopfer, the firm's Chief Financial Officer, "Norm and I truly believe that the best of Roman Roofing is yet to come".