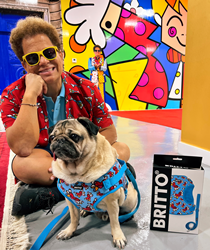 "I am so glad Doug and his parents love my artworks, and most importantly that the foundation has an opportunity to create more awareness and really help people around the world" - Romero Britto
MIAMI (PRWEB) May 22, 2022
Romero Britto, internationally renowned artist and founder of the Happy Art Movement, has teamed up with Doug the Pug Foundation for the release of three new Doug the Pug limited edition artworks on canvas. The collection showcases the iconic Doug in Britto's distinguishable art style and are now available as an extension of the new BRITTO® pet line collection online on ShopBRITTO.com and in the flagship Romero Britto Fine Art Gallery located on Lincoln Road, Miami Beach.
The partnership highlights the Happy Art Movement mission of bringing joy through art with royalties from the licensed artworks to benefit The Doug the Pug Foundation with the mission to financially support children and their families battling cancer and other life threating illnesses.
"I love pets, they give unconditional love and how Doug the Pug Foundation brightens our lives and touches so many others around the world," Romero Britto states.
About Romero Britto
Romero Britto, the founder of the Happy Art Movement, is an internationally renowned artist who has created an iconic visual language of happiness, fun, love, and hope all its own inspiring millions worldwide. Brazilian-born and Miami-made, Romero has made it to the top and is considered one of the most famous and celebrated living visual artists in the globe. To learn more about Romero Britto visit http://www.britto.com or follow us on Facebook, Linkedin, Instagram and Tiktok.
© 2022 Britto Central, Inc. All Rights Reserved
About Doug the Pug Foundation
The Doug the Pug Foundation (501c3 tax exempt) works to bring joy and needed support outside of treatment to children and their families battling cancer and other life threatening illnesses. Doug knows what it means to bring joy to children while they are in treatment for a life-threatening disease and wants to help children and their families during their fight for life. Doug the Pug Foundation was created to help sustain joys of childhood and alleviate financial burdens outside of treatment. To learn more about Doug the Pug Foundation visit https://www.dougthepugfoundation.org https://www.dougthepug.com
Instagram: @dougthepugfoundation, @itsdougthepug Facebook: https://www.facebook.com/dougthepugfoundation https://www.facebook.com/itsdougthepug
Twitter: @DTPfoundation, @itsdougthepug
TikTok: dougthepug
YouTube: https://www.youtube.com/dougthepug