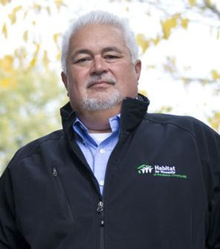 "There comes a time when an organization needs new leadership with fresh ideas and new approaches – and now is that time." - Ron Cramer, Habitat for Humanity of Frederick County
FREDERICK, Md. (PRWEB) April 06, 2021
After a long and successful career with State Farm, Cramer performed many roles at Habitat through the years – Board Member, Volunteer, ReStore Manager, and Executive Director. In 2007, as ReStore Manager, he was asked to increase the ReStore operations where he succeeded, increasing monthly sales from $100 to $1,200. And in 2008, when the housing market took a drastic downturn, Cramer accepted the position of Executive Director. During his tenure, he helped build the Habitat Home Repair program and Neighborhood Revitalization Initiative both that partner with local families and community members to keep them safe and healthy. He also helped create the Frederick County Affordable Housing Land Trust – the first in Maryland – to reduce the cost of home ownership.
"Habitat for Humanity is in my heart," says Cramer. "I deeply care about the people we serve and have so many fond memories of my time here. God has truly blessed me. There comes a time when an organization needs new leadership with fresh ideas and new approaches – and now is that time. As a leader, you have to know when to let go and welcome in the future. I do this now to ensure the very best for Habitat Frederick."
Cramer leaves his legacy as Habitat undertakes its largest project to date: the renovation and construction of twelve units of affordable housing on West All Saints and Ice Streets, slated for completion in 2023.
"Compassion, exuberance and sincere gratitude are just some of the sentiments Ron projects when he discusses Habitat for Humanity and most importantly, Habitat homeowners," says Jay Mason, President of the Board of Directors at Habitat Frederick. "Finding someone with as much passion for and commitment to Habitat as well as a strong connection to the Frederick community is going to be difficult. I have served on the Board for five years, and working with Ron has been an absolute pleasure. He has been a dedicated and driven leader, and will be greatly missed."
Habitat is currently searching for their next Executive Director.
Habitat for Humanity of Frederick County, MD has been helping to build strength, stability, and self-reliance through affordable home ownership since 1993. Through home builds, repairs, and neighborhood revitalization projects, Habitat works to ensure safe, affordable housing for all.