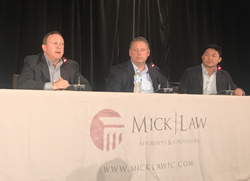 On May 7, 2019, Diamond presented 'How Family Offices are Disrupting Private Equity, Venture Capital and Real Estate.'
CHICAGO (PRWEB) June 13, 2019
Financial Poise™ is pleased to congratulate Ron Diamond, Chair of The Family Office Advisor, a Financial Poise™ editorial board, and CEO of Diamond Wealth Strategies, on his speaking engagement at the elite Mick Law Energy & Global Alts Symposium.
On May 7, 2019, Mr. Diamond presented "How Family Offices are Disrupting Private Equity, Venture Capital and Real Estate." Joining him on this panel were Steven Thayer of Handler Thayer, LLP and Joseph Bonvouloir, the Founder and CEO of ALTI.
The Mick Law Energy & Global Alts Symposium, a prestigious 3-day event, took place from May 5-7, 2019, in Dallas, Texas. The Symposium brought together industry leaders and investment experts for networking and thought leadership.
One his participation, Diamond noted that it was a "great panel discussion talking about how Family Offices are disrupting private equity, venture capital, and real estate."
About Financial Poise™
Financial Poise™ has one mission: to provide reliable plain English business, financial and legal education to individual investors and private business owners. Financial Poise™ content is created by seasoned, respected experts who are invited to join our Faculty only after being recommended by current Faculty Members. Our editorial staff then works to make sure that all content is easily digestible. Financial Poise™ is a meritocracy; nobody can "buy" her way onto the Financial Poise Faculty.™ Start learning today at https://www.financialpoise.com/