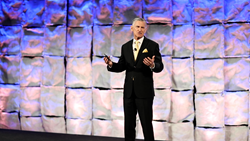 "I wasn't looking for another corporate role and there is only one company I would have even considered joining. TTI Success Insights, Ltd. is that company and I am grateful for this opportunity to serve."
SCOTTSDALE, Ariz. (PRWEB) January 26, 2022
The board of directors of TTI Success Insights, Ltd. is happy to announce the appointment of Ron Price as President of the company. Ron has a varied and extensive background as an entrepreneur, corporate executive, author, speaker, executive coach, and organizational advisor. Prior to taking the role of President at TTI SI, Ron was the founder and CEO of Price Associates, an international leadership advisory firm with expertise in leadership development, innovation, and strategy. He also founded TTI Success Insights China in 2009, the Master Distributor for TTI SI assessments in greater China. Ron is also the author of five books over the past 14 years, including three best sellers that are available on Amazon.
Dave Bonnstetter, co-founder and majority shareholder of TTI Success Insights, Ltd., told the staff, "Ron is the perfect choice to lead us into the future. He has the corporate leadership experience and he has been a significant part of our distribution network, both as a top performing Value Added Associate in North America, and as a successful Master Distributor for our business in greater China." When accepting this new role, Ron explained, "I wasn't looking for another corporate role and there is only one company I would have even considered joining. TTI Success Insights, Ltd. is that company and I am grateful for this opportunity to serve."
TTI Success Insights, Ltd. is a 35-year-old leader in the assessment industry, with over 35 million assessments delivered in over 117 countries in 40 languages. Their research and development, customer service, and employer experience reputation has garnered multiple awards around the world. They are continually recognized as one of the top 20 assessment companies by Training Industry Magazine and as a "Best Place to Work in Arizona" by AZCentral.com. For more information about the company, visit ttisi.com.