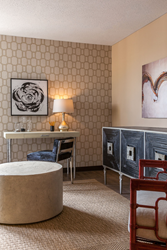 it is my way of paying it forward, allowing me to use my design talents to provide these families the same transformative spaces that I provide my design clients, where the families can stay and heal together while their child receives treatment nearby.
Stanford, CA (PRWEB) February 18, 2016
In partnership with the San Francisco Design Center "Where Hope has a Home" brought together more than 60 local interior designers who donated their time and expertise to create inviting and functional spaces in the Ronald McDonald house's new building extension. Julianne Quelle Design selected two rooms, a "guest room" and a "sitting room", approximately 430 s/f to transform. Undaunted and deeply inspired by what they saw, they took the design project on as their largest charitable endeavor ever.
Jana M. Magginetti's design of the guest room "Into the Woods" is just the restful environment that will calm the families lives and nurture their soul. Soft textures and warm neutral tones exude nature's earthly substance with restful grays and calming taupes. Inserted into the calm environment are playful elements and a touch of whimsy to remind us of the healing powers of humor...and healing is the most important part of their stay.
The public sitting room exudes feelings of comfort, strength and a solid foundation through strong textures and patterns in tailored fabrics, darks against lights, playful juxtaposed with the traditional. Just the respite that the guests of the Ronald McDonald house will want after a long day at the hospital, they will need a retreat that is warm and cozy, where you can put your feet up to read as your children pull toys out of the nearby baskets to play on the soft whimsical rug, or run toy cars over the coffee table. The sitting room provides a place for reading, playing, entertainment, and work for all the family members.
Jana Meewes Magginetti, principal interior designer of Julianne Quelle Design, explains why she chose to participate: "Each year, as a reminder of how truly lucky we are, my team and I choose a philanthropic project that allows us to give back to our community. As a designer and a Mother, it is my way of paying it forward, allowing me to use my design talents to provide these families, under great stress with a critically ill child, the same transformative space that I provide my design clients, in this case, a comfortable, safe, and welcoming environment where the families can stay and heal together while their child receives treatment nearby."
Many vendors generously made this project possible by providing services, product, and their expertise through donations, discounts and volunteering their time to make the room a reality. I am so grateful for their support. They include:
Fabrics & Wall Coverings: Robert Allen, Romo, Cowtan & Tout, Phillip Jeffries
Furnishings: Lee Industries, Quintus, Made Goods, Global Views, Flor, Delano, Serena & Lily
Services: Marc P. Vallat, Diane Kirchner, Arana Craftsman Painters, Tapia Construction & Restoration, Kathryn MacDonald Photography | Web Marketing, Ruth Rodriguez
Julianne Quelle Design welcomes any donations to this project on her Ronald McDonald House donation page.
Tours of the New Ronald McDonald House at Stanford
Tours will be happening February 13-28, 2016, Thursday – Sunday, 10am to 3pm, of the new wing which will allow the public to view all the rooms, each with a unique design, and support this amazing cause through their ticket purchase.
About Jana Meewes Magginetti and Julianne Quelle Design
Being an interior designer allows Jana to insert beauty into people's everyday lives. She finds it incredibly satisfying to facilitate this and see the transformational results first hand – how excellent design can positively impact her client's lives, physically and psychologically… more then they ever imagined.
Her inspiration started with her mother, Julianne Quelle, who embodied style, elegance, sincerity, creativity and hospitality. She taught Jana the art of seeing beauty everywhere.  Julianne's flair encouraged Jana to explore design in its many forms, resulting in a life long love of art, fashion, architecture and interior design. Years of study, experience in fashion retailing and design, and interior design, now happily converge in her award-winning firm, Julianne Quelle Design. The firm aspires to interior design that exudes sophistication, yet is balanced with comfort and warmth, that juxtaposes richness with the delightful, the modern with timeless classics.
Julianne Quelle Design serves clients in Carmel, Pebble Beach, Monterey and the San Francisco Bay Area. Their work can be viewed at http://www.juliannequelle.com.
About Ronald McDonald House at Stanford
Ronald McDonald House at Stanford was founded in 1979 on the simple idea that families need to be together to help critically ill children heal. Each night, the House is able to provide a home-away-from-home for 47 families with a child being treated for a life-threatening illness at a local hospital. Unfortunately, more than 4,000 families were turned away in 2014 because the House was operating at capacity. To meet this increasing demand and respond to the expansion underway at Lucile Packard's Children Hospital Stanford, Ronald McDonald House at Stanford is near completion on a new 52,000-square-foot expansion and renovation project that will increase capacity to 123 family rooms-making the House at Stanford the largest worldwide.