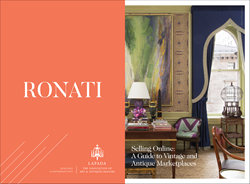 The fastest way to start or increase online sales of vintage and antique pieces is to identify and join every marketplace relevant to a dealer's focus.
CHICAGO (PRWEB) September 15, 2020
Ronati, in partnership with LAPADA: The Association of Art & Antiques Dealers, announced the launch of the first-ever Selling Online: A Guide to Vintage and Antique Marketplaces, available now at http://www.ronati.com/marketplaceguide.
Working extensively with dealers in art, vintage, and antiques in the UK, US, and worldwide for the last two years, the Ronati team is regularly asked, "Which marketplaces should I list on?" With more than two dozen sites that focus in these areas, such as 1stDibs, Vinterior, Chairish, Decorative Collective, LAPADA, InCollect, Artsy, Love Antiques, and others—selecting the right marketplaces is critical.
Ronati's answer was to create the Selling Online guide, filled with detailed descriptions and information on leading and niche marketplaces. These marketplaces have poured considerable resources into showcasing vintage and antique dealers' stock to an ever-growing community of qualified buyers.
"If you want to get ahead, you have to get online," says Freya Simms, CEO of LAPADA.
"This guide is an invaluable resource for art and antiques dealers to help navigate the multiple platforms available to the trade and to understand which are the most suitable marketplaces for their stock."
With 2 billion buyers purchasing online in 2019, selling online should be a part of every dealer's strategy pre, during, and post-COVID-19.
"Dealers who formerly resisted e-commerce are now embracing it as part of the importance of global networking and surviving the post-COVID-19 world," said Stacey Tiveron, Founder and CEO of Ronati. "To get the attention of online buyers, dealers know they need to list on multiple marketplaces. This guide allows them to quickly identify and join the marketplaces appropriate to their focus, be it style, period, price, or maker."
Selling Online: A Guide to Vintage and Antique Marketplaces is available free of charge to the industry at http://www.ronati.com/marketplaceguide
About Ronati
Ronati is the inspiration of tech entrepreneur, Stacey Tiveron. A 20-year veteran of the interior design industry, she previously founded Trade Only Design Library (TODL), the world's largest online platform exclusively for interior designers, architects and manufacturers. Seeing the massively underserved e-commerce needs of the art, vintage and antique industry, she founded Ronati in 2017 to help dealers transition to the digital world and connect with the consumers actively seeking unique pieces online. Ronati offers the only e-commerce management & inventory tool of its kind. Dedicated to opening the gates for online sales of antiques worldwide, it's as easy as texting.
For more information, visit ronati.com @world_of_ronati on Instagram, Twitter and Facebook. Corporate headquarters: 222 W. Merchandise Mart Plaza, Suite 1212, Chicago, IL 60654. Ronati ©, Ronati, LLC. 2020. All Rights Reserved.