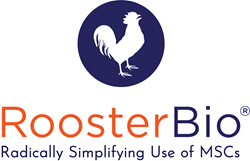 "This solution solves the need of the regenerative medicine product developer who requires significant hMSC-derived EV volumes generated from cGMP systems designed with quality, efficiency and scalability in mind." - Jon Rowley, PhD, Founder and Chief Product Officer of RoosterBio
FREDERICK, Md. (PRWEB) May 14, 2020
RoosterBio Inc., a leading supplier of human mesenchymal stem/stromal cell (hMSC) working cell banks and hMSC bioprocess systems, today announced the launch of its product RoosterCollect™-EV-CC to enable streamlined and multi-format collection of hMSC-derived extracellular vesicles (EVs). RoosterCollect™-EV-CC is the only system designed with hMSC-EV product developers in mind. Product developers can now use RoosterBio's CliniControl™ standardized, scalable and highly productive bioprocess media with high quality cellular starting materials to reduce costs and process times – completing a system for EV production that can readily be implemented in late stage product development and cGMP manufacturing.
In March 2019, RoosterBio brought RoosterCollect™-EV and EV Boost™, "development grade" versions of the product system, successfully to market while outpacing expected sales forecasts. Founder and Chief Product Officer Jon A. Rowley, PhD said, "We launched RoosterCollect™-EV-CC in response to strong market demand for a complete hMSC-EV system. This solution solves the need of the regenerative medicine product developer who requires significant hMSC-derived EV volumes generated from cGMP systems designed with quality, efficiency and scalability in mind."
Today, a wide range of companies are currently developing EV/exosome-based therapeutic products across diverse applications in the regenerative medicine industry. The EV market is rapidly growing with at least 13,074 scientific articles published, according to PubMed.gov and over 140 clinical trials underway, according to Clinicaltrials.gov. hMSCs are reportedly prolific producers of EVs, and are hypothesized to have mechanism of action attributable to EV secretion into the extracellular space. EVs are also being considered as targetable candidate delivery systems for macromolecules like siRNA or miRNA.
RoosterBio's proprietary, clinically relevant product portfolio manufactured by GenCure was introduced in 2017 under the CliniControl™ brand name. CliniControl™ products radically simplify multiple steps in therapeutic development, allowing product developers to prospectively truncate years of time and millions of dollars from their development timelines.
Rowley added, "This product is a key addition to our cGMP solutions. We've proven that our CliniControl™ products are part of the industrialized supply chain of regenerative medicine. We continue to drive unparalleled efficiencies and economies of scale in clinical and commercial hMSC-based product manufacturing."
About RoosterBio, Inc.
RoosterBio, Inc. is a privately held cell manufacturing platform technology company focused on accelerating the development of a sustainable Regenerative Medicine industry, one customer at a time. RoosterBio's products are high-volume, cost-effective, and well-characterized adult human mesenchymal stem/stromal cells (hMSCs) paired with highly engineered media systems. RoosterBio has simplified and standardized how living cells are purchased, expanded, and used in development, leading to marked time and cost savings for customers. RoosterBio's innovative products and collaborative relationships are ushering in a new era of productivity and standardization into the field. Visit http://www.roosterbio.com.