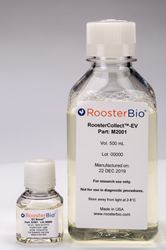 "If EV production is the issue, high quality cellular starting materials coupled with scalable processes are the solution." - Jon A. Rowley, Founder & Chief Product Officer, RoosterBio
FREDERICK, Md. (PRWEB) March 07, 2019
To radically simplify processes and increase productivity for researchers, RoosterBio Inc. has launched two bioprocess media products, RoosterCollect™-EV and EV Boost™, that supplement a scalable xeno-free manufacturing process to efficiently produce, collect, and boost human mesenchymal stem/stromal cell (hMSC)-derived exosomes and extracellular vesicles (EVs). By starting with a high-volume hMSC-specific process, customers can now catalyze a complete EV workflow within a tunable platform delivering marked savings in process time – which directly translates to accelerated development programs and cost savings.
Within the regenerative medicine industry, the exosome market is one of the fastest growing segments, exhibiting a compound annual growth rate (CAGR) of over 40%. MSCs are at the forefront of this growth as 50% of all stem cell-derived exosome/EV publications in 2018 were specific to MSCs. A cornerstone to today's challenges related to therapeutic EV development has been industrializing EV platforms to make them more productive. RoosterBio is addressing the EV productivity challenge in two ways. First, they are helping EV product developers quickly achieve significant cell mass and efficient EV collection using RoosterBio's cell and bioprocess media kits coupled with RoosterCollect-EV. This solution can be immediately implemented in 2D flask or 3D bioreactor culture systems. Secondly, RoosterBio has invented a patent pending product (EV Boost) designed to stimulate cells to increase EV production – driving massive EV productivity gains without scale up.
RoosterBio's Founder & Chief Product Officer, Jon A. Rowley, PhD said, "The launch of these two products complement our hMSC bioprocess systems and provide a complete EV production solution enabling our customers to escape the 'exosome bottleneck', and rapidly get into the clinic with hMSC-derived EVs made with efficient and scalable processes." He added, "The product, system, and bioprocess are critical. If EV production is the issue, high quality cellular starting materials coupled with scalable processes are the solution."
Pre-ordering for RoosterCollect™-EV and EV Boost™ is available now and will start shipping mid-March 2019. To find out more, visit https://www.roosterbio.com/pages/products.
About RoosterBio, Inc.
RoosterBio, Inc. is a privately held cell manufacturing platform technology company focused on accelerating the development of a sustainable regenerative medicine industry, one customer at a time. RoosterBio's products are high-volume, affordable, and well-characterized adult human mesenchymal stem/stromal cells (hMSCs) paired with highly engineered media systems. RoosterBio has simplified and standardized how stem cells are purchased, expanded, and used in development, leading to marked time and costs savings for customers. RoosterBio's innovative products are ushering in a new era of productivity and standardization into the field, accelerating the road to discovery in Regenerative Medicine. For more information on RoosterBio, please visit http://www.roosterbio.com.